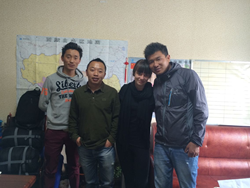 TCTS has best private Tibet tour services since 12 years ago!
Lhasa, Tibet (PRWEB) June 05, 2015
Many planning Tibet travel for summer 2015 have been wondering how they can enjoy its scenery and fascinating culture without investing a week or more of their limited travel time; Tibet is a huge country with travel destinations that can be separated by large distances. In response, Tibet Ctrip Travel Service-TCTS (http://www.tibetctrip.com) is boosting travel opportunities with a lineup of new one-day private tours. In the latest update, TCTS highlights tours that visit Tibet's stunning mountain lakes.

Yamdrok tour: Located between Lhasa and Shigaste, Lake Yamdrok sits amongst a backdrop of snow-capped peaks and shines a deep blue on sunny days. The lake precedes Potala Palace as the burial site for Dalai Lamas; in early Tibet, their remains would be cast into the lake along with treasures such as jewels and statues. The tour begins in the morning so travelers have the opportunity to stop and enjoy the scenery along the way.
Namtso tour: Taking a full day, the Lake Namtso Tibet tour is a great way for travelers looking to escape the crowded streets of Lhasa. In addition to holding 5 islands it's one of the largest lakes in all of Tibet and China, second only to Lake Qinghai. Be ready for an early start, the tour leaves the group's hotel at 7:30 a.m.
Those hoping to visit Tibet without investing all their travel time need not count themselves out. With Tibet travel agency TCTS's new one-day private tours groups can arrive in Tibet ,enjoy a day of sightseeing, and then follow it up with more sightseeing or move on to their next destination. Now that the 2015 travel season has started it's time to start planning a tour!