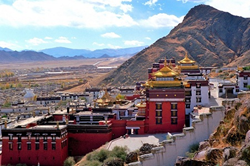 Welcome to book a tour of Tibet for you and friends!
Lhasa, Tibet (PRWEB) April 09, 2015
A private Tibet tour is the ultimate way for a traveler and their friends and family to get away from it all while experiencing one of the most magnificent and mysterious places on earth. During the 2015 travel season travel groups can embark on the adventure of their dreams with private tours by Tibet Ctrip Travel Service-TCTS (http://www.tibetctrip.com); taking care of everything from travel permits to transportation and hotels, TCTS makes travelling in Tibet an easy experience. TCTS has revamped some of its most popular tours to cover more ground in a shorter amount of time:

Lhasa-Namtso-Everest: Over 8-10 days travelers will enjoy an introduction to Tibetan history and culture in Lhasa, see Lake Namtso, visit Gyangtse and Shigatse, and new in 2015 now have an opportunity to soak in a hot spring all before the adventure culminates with a night at Mt. Everest. For the best chance of crystal clear views come morning visit during late April-May and September-October.
Lhasa-Namtso-Shigatse: For those looking for a culture-focused Tibet travel experience this 7-day tour is perfect. As with most tours by TCTS travelers will have time to acclimatize to the altitude and explore Lhasa before the tour now makes a stop at Lake Namtso before heading on to Gyantse and Shigatse. In Gyantse travelers will visit Pelkhor Monastery and the fantastic Tibetan Buddhist art filled Kumbum Pagoda. Shigatse is the second largest city in Tibet and is home to Tashilhunpo Monastery, seat of the Panchen Lama.
Ganden-Samye Monastery trekking tour: This tour is for travel groups seeking to test their endurance in exchange for dramatic high altitude landscapes. The trek begins at Ganden Monastery and crosses mountain, forest, and wide-open meadow over the four days it takes to reach Samye monastery! In response to popular demand all adventures in 2015 will include a free day in Lhasa to explore allow for additional time to acclimatize to the altitude.
With TCTS travel groups can relax and enjoy the experience without worrying about details and logistics. Tours are professionally guided by native Tibetans who encourage questions and enjoy teaching visitors about their homeland. All itineraries are completely customizable to meet the needs and interests of travelers, visit http://www.tibetctrip.com for more itineraries and ideas. With the best season for Tibet tours right around the corner now is the time to planning!
Please learn more about Tibet tours :http://www.tibetctrip.com/tibet-tours.html