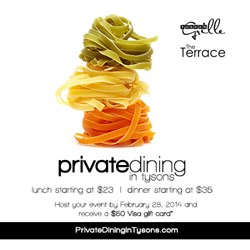 McLean, VA (PRWEB) October 10, 2013
Two of Tysons Corner's best kept dining secrets, The Tuscan Grille and The Terrace, showcased their new private dining menus at last week's "Taste of Tysons," an annual food exhibition, where local restaurants, vendors, and even stage performers are afforded an opportunity to showcase their wares to local patrons.
Sponsored by the Tysons Corner Regional Chamber of Commerce, this year's event was held on Saturday, September 21 in Vienna and was extremely well-attended by industry leaders and upstart businesses alike.
For the first time, both The Tuscan Grille and The Terrace restaurants, located adjacent to each other in the center of Tysons Corner, participated in the festivities and both were a big hit. The two restaurants partnered with each other to showcase their brand new private dining menus, including a "Taste of Tysons" favorite, marinated diver sea scallop with pumpkin puree, endive and star anise butter.
However, the "Taste of Tysons" isn't the only thing that these two restaurants are collaborating on; they are partnering in a new initiative to focus on private dining in Tysons Corner. The Terrace and The Tuscan Grille restaurants, located inside the Courtyard by Marriott and Crowne Plaza Tysons Corner hotels respectively, have a very unique value proposition for locals looking for unique, convenient, and affordable private dining options in Tysons Corner. With over 3,500 square feet of private dining space, natural light throughout, outdoor terrace seating, and top-notch culinary talent, these two restaurants make for an ideal setting for private lunches and dinners for groups from 8 to 150 people.
"This is just a glimpse of the terrific cuisine we will be offering on our private dining menu," said David Roubie, food and beverage director for both restaurants. "We are extremely excited about our new private dining offering. With our location, flexible dining space, unbeatable cuisine, and competitive prices, we will be able to meet any group's needs."
Starting at a very reasonable price of $21/person, the two restaurants plan to feature buffet, family-style, and plated options within their private dining menus.
With a full-website coming soon, in the interim you check out their menus and read more about their plans at http://www.PrivateDiningInTysons.com. Or to experience the best new private dining in Tysons Corner first hand, simply call David Roubie directly at 703-893-2100 ext. 2291.