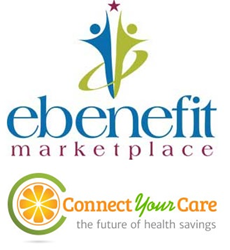 We needed a solution that was flexible and could adapt to the needs of our clients and offer the most competitive pricing on the market.
CONNECTICUT AND MARYLAND (PRWEB) September 08, 2014
ebenefit Marketplace, a leader in software and services for benefits administration technology specializing in Private Exchanges, announced that they have selected ConnectYourCare, one of the nation's largest health savings providers – and a recognized expert in Health Savings Accounts (HSAs), Health Reimbursement Arrangements (HRAs), Flexible Spending Accounts (FSAs) and retirement health benefit account administration – to provide a fully integrated health savings solution to be offered by ebenefit Marketplace.
With this relationship, ebenefit enhances its existing services by integrating ConnectYourCare's top-ranked CDH platform to create a comprehensive product supporting employer demands for flexible, account-based benefit solutions that include:

Healthcare Account Administration (HSAs, HRAs, FSAs and more)
Healthcare Payment (Debit) Card
Online Account Access via Single Sign On (SSO)
Rapid Request Claims Processing
Health Education Tools
Customer Service (24 hours a day, seven days a week)
"Our innovative technology and unique user experience vastly improves participants' ability to maximize control over their savings and purchasing decisions with ConnectYourCare's tax advantaged health care accounts," commented interim CEO Jim Simmons. "Our tools, like our mobile upload, two way texting and click-to-pay options are just a few examples of our real-time technology. We streamline and simplify provider payments and participant reimbursements for a hassle free, and much improved, member experience," he concluded.
ebenefit's Director of Exchange Technology Frank B. Mengert remarked, "The growth of consumer-directed healthcare is something we are watching closely. We needed a solution that was flexible and could adapt to the needs of our clients and offer the most competitive pricing on the market. ConnectYourCare exceeded our expectations on what they can deliver from not only their platform, but the people behind the platform."
About ebenefit Marketplace
Based in Connecticut, ebenefit Marketplace offers brokers nationwide the software and services to streamline benefits, HR and payroll administration through a private exchange platform. Their wide array of solutions significantly reduce administrative costs and time-consuming paperwork, making life easier for administrators and the millions of consumers who have enrolled using the same technology. ebenefit's state-of-the-art cloud-based technology is through a Technology Channel Partnership with bswift. For more information please visit ebenefitmarketplace.
About ConnectYourCare
ConnectYourCare's consumer-directed health care platform provides a fast path to account-based health plans, enabling firms to lower health benefit costs while empowering consumers with the tools they need to better manage health savings. The solution of choice for large employers, health plans and banks, ConnectYourCare offers a fresh approach to health savings by combining a simplified experience, seamless access and a unique coaching model to accelerate savings and consumer engagement. By removing complexity and motivating individuals to take control of health savings, ConnectYourCare maximizes return on investment for all participants in the health care benefits value chain and enables everyone to simplify, save and grow. Learn more at ConnectYourCare.