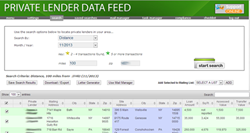 I am thrilled to finally have a way to search for private lenders in my area and contact them this easily.
Nashville, Tennessee (PRWEB) January 18, 2014
In order for any real estate investor to do a deal, funding is needed. Not all investors have the cash on hand to purchase a property. This is why finding private lenders for real estate deals has become an integral part of many real estate businesses. PrivateLenderDataFeed.com has designed and released their brand new software that will help investors across the nation find and contact private lenders with ease.
The problem with most private loans is that they involve a bank and a credit check. Not only that, but the approval process can take weeks so there is no guarantee when the funds will be available. More and more real estate investors are turning to private lenders for funding because they either have poor credit or can't afford to wait for loan approval.
Up until now finding local and active private lenders has been a very tough task for investors. PrivateLenderDataFeed.com has made it easier than ever to locate private lenders in a specific radius and reach out to them.
Members of PrivateLenderDataFeed.com do not need to have any experience finding or communicating with private lenders either. Within their account, members will find SEC compliance manuals for every state. Not only that, but there are SEC compliant templates already written and provided for all members to use.
Without PrivateLenderDataFeed.com, investors would have to find private lenders manually. This process involves searching through real estate transactions at the county building in their region. Investors would be looking at all private lenders within the entire county too; not an individual city or zip code. With PrivateLenderDataFeed.com it only takes a few clicks of a mouse to find private lenders within a single zip code, single city, or a given radius.
One of the newest members of PrivateLenderDataFeed.com, Kendall, has this to say, "I am thrilled to finally have a way to search for private lenders in my area and contact them this easily. I've spent both weeks searching for an active private lender in my area and weeks waiting for a loan approval. Both have lost me a number of deals. I will never have to deal with that again."
PrivateLenderDataFeed.com has not only saved real estate investors time and money, but it has kept them from violating SEC Compliance within their state as well. Having this software will help any investor nationwide find funds quickly so they can do more deals in less time.
To find out more information about PrivateLenderDataFeed.com and how to try the software for $1.99 visit, http://www.PrivateLenderDataFeed.com now!