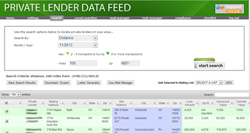 I can search for private lenders in each of my markets, select specific ones, and send a postcard all in a few minutes!
New York, NY (PRWEB) February 19, 2014
One of the most difficult tasks for real estate investors today is being able to find an ideal and willing private money lender to fund their deals. In today's market, it's better to have a long list of potential lenders. Once a list of private lenders is established, the investor has all of those lenders to reach out to when they need funding.
Traditionally investors spend a lot of time searching through the public record by hand to find private lenders in their markets and then contact them one by one. This is why PrivateLenderDataFeed.com is so excited to open up their website, which has become a top resource for real estate investors that need private money for their deals to investors across the country.
PrivateLenderDataFeed.com was created to provide investors with a quick and easy way to access private lenders across the nation without stepping foot into a county building.
Members of the PrivateLenderDataFeed.com have the ability to search the entire nationwide database of private lenders by county, zip code radius, or city. There are no limitations on the number of searches each member can do, and searches can be done in multiple markets.
Amber, a member of the PrivateLenderDataFeed.com, had this to say about the system, "Before I found the PrivateLenderDataFeed.com I would spend hours upon hours in the county building searching through public record. Now, I can search for private lenders in each of my markets, select specific ones, and send a postcard all in a few minutes. It takes me longer than that to drive to the county building!"
Many real estate investors aren't aware that they have to be SEC compliant when contacting private lenders, either. Within the PrivateLenderDataFeed.com system, investors have access to an SEC compliance manual for every state. Not only that, but there are pre-written letters and post cards templates that already meet SEC compliance regulations within the system for members to use. This is another reason that PrivateLenderDataFeed.com has become such a valuable resource for investors.
On top of that, members can build a list of private lenders, customize a post card or letter template, and send a mailing all from with their account. This feature is known as the Mail Manager. Sending these mailings only takes a matter of minutes, too.
The task of finding a private money lender to fund a deal starts with building a list of lenders, contacting them, and creating a relationship with them. The tools and resources in PrivateLenderDataFeed.com have helped real estate investors nationwide find ideal private lenders that they can use for any deal.
To find out more information about the PrivateLenderDataFeed.com or to try the system risk free, visit PrivateLenderDataFeed.com today!