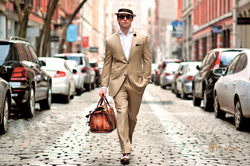 Your life choices create your lifestyle.
Brooklyn, NY (PRWEB) June 30, 2015
Privélege, the lifestyle-driven online clothing brand specializing in premium custom men's clothing, today launched its online boutique with a collection of sophisticated suits, shirts, trousers and accessories. The brand is designed for style-conscious men seeking high-quality clothing that truly makes a statement. The collection is now available at ThePrivelege.com.
"What makes Privélege standout from other custom menswear brands online is that we're about providing men with stylish, high-quality clothing that can be perfectly tailored to not only fit their lifestyle, but also the ideal lifestyle they choose and aspire to live," said Kingsley Duah, Privélege co-founder and CEO.
Privélege's 3-step process allows customers to simply customize their desired garment, take their measurements and order online all without having to physically enter a clothing store. Privélege ensures quality with an intensive inspection checklist, but provides a $100 credit for any alterations having to be done by a local tailor. Garments are delivered within 2 – 6 weeks depending on the item.
"The Privélege collection is imbued with the flavorful essence of the city that it was born in – Brooklyn," said Mario Rijfkogel, Privélege co-founder. "Still, our designs are made to be effortlessly customizable to the modern man's taste, whether he's in the office or at a social event. Our goal is to empower men to instill their individuality in everything they wear, which allows their uniqueness and strength to shine wherever they are."
At its core, Privélege believes that a person's life choices dictate their lifestyle, and the company's goal is to provide everyone with the power of choice. To empower individuals to make choices that will positively impact their life, 10% of net profits from the Privélege custom suit line are given annually to organizations and individuals whose work empowers accelerated opportunity and positive growth in underprivileged communities.
About Privélege
Brooklyn-based Privélege is a lifestyle-driven brand specializing in custom men's clothing online. Founded by Kingsley Duah and Mario Rijfkogel, Privélege custom men's clothing embodies style, craftsmanship, and sophistication. Through its distinct line of bespoke menswear, Privélege empowers men to make choices that showcase their individuality and positively represent their lifestyle. Privélege strives to give everyone the power of choice so that they can, in turn, positively impact the lives of others. Ten percent of net profits from Privélege custom suits are given annually to organizations and individuals whose work empower accelerated opportunity and positive growth in underprivileged communities. ThePrivelege.com
Multimedia Available: Visit https://theprivelege.com/the-privelege-experience/media-kit/