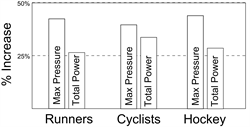 leverages years of research and sports science to deliver elite athlete training metrics to the palm of your hand
Smithfield, RI (PRWEB) July 08, 2014
A spinoff of Design Net Technical Products, PrO2 Fit has launched their new athletic measurement and training product on Kickstarter. PrO2TM links with Apple and Android smartphones to guide users through personalized training, while providing real-time feedback. The device significantly extends time-to-fatigue and improves recovery times in sports and exercise in just 6-8 weeks.
"The PrO2TM device and our one-breath FIT score leverages years of research and sports science to deliver elite athlete training metrics to the palm of your hand," states CEO Bob Bouthillier.
"The endurance of the muscles we use to breathe limits our performance when we exercise," says Ken Chatham, inventor of the PrO2TM. "Increasing the strength and endurance of our inspiratory muscles allows us to exercise longer, before we run out of breath."
"Although many devices claim to train inspiratory muscles, few train them properly," Chatham continues. "The PrO2 uses an enhanced version of my Test of Incremental Respiratory Endurance (TIRE) protocol. Nearly 20 years of research have shown clear benefits from TIRE training."
Figure 1 shows the benefit runners, cyclists and hockey athletes have received when using the TIRE protocol over a 6 – 8 week training period.
Linked with an Apple or Android device to provide real-time feedback on screen, the PrO2TM measures FIT scores during training. The app reports a FIT score after the first breath is taken and guides the user through personalized breath-training exercises. PrO2TM training takes less than 30 minutes and should be done 3x weekly for maximum benefit. When improvement levels off after 6-8 weeks, the user needs to only train once or twice weekly to maintain his/her FIT score.
"Our device represents the next big leap for the mobile fitness marketplace," says Bouthillier. "While wearable products like the FitBit1 and Nike Fuelband2 track your activity, PrO2's one-breath FIT score not only provides real insight into your fitness level, but also allows you to improve it through training on the same device. When combined with wearables, the FIT score will tell you which activities actually improve your endurance"
"Being a mobile platform means you can easily share results with your social community to encourage training," Bouthillier continues. "Users can easily share results, compare scores and compete with others using Google+, Facebook, Twitter and Instagram. Plans are also in place to support Apple's HealthKit3 and Google Fit4."
Several international athletes and professional sports teams have the used the PrO2TM to get a performance edge, or to help injured players maintain aerobic fitness during recovery. "It did not take long to feel the benefits of training. I believe it was my second time using the device that I started to realize how much stronger my breathing got, and how much longer I could sustain my endurance on the field," stated quarterback Stephen Morris, now with the Jacksonville Jaguars NFL team.
"We wanted to create a product to measure the performance of our aerobic 'engine' that is as simple as stepping on a bathroom scale," says Bouthillier. "The PrO2TM FIT score provides this in just one breath. Our training effect is similar to a adding a super charger to an engine. In both cases, more O2 yields better performance."
PrO2FIT will be unveiling the PrO2TM prototype at the National Strength and Conditioning Association (NSCA) conference in Las Vegas July 9th-12th, 2014.
To learn more or to purchase the PrO2TM, visit http://www.kickstarter.com/ or visit our website http://www.pro2fit.com for more information.
The official way to pronounce PrO2 is "pro two."
1FitBit is a trademark of FitBit, Inc.
2FuelBand is a trademark of Nike, Inc.
3HealthKit is a trademark of Apple, Inc.
4Google Fit is a trademark of Google, Inc.
PrO2FIT is an early-stage startup company that is a spinoff of Design Net Technical Products in Smithfield, RI. PrO2FIT develops measurement and training products for the fitness and wellness market. Their products promote healthy lifestyles and are not intended to diagnose or treat any disease or medical condition.
Design Net Technical Products is a product-development firm with a nearly twenty-year history of developing consumer and medical products for companies ranging from startups to fortune 500 companies. Design Net co-developed the company, the product and the technology used in the PrO2 product.