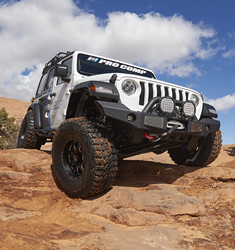 "We're proud to offer a high performance JL suspension kit that allows JL owners to tackle hardcore off-road terrain while maintaining the Jeep's driveability. With 37-inch tires you can do some serious off-roading without having to sacrifice comfort on your daily commute or day-to-day activities."
COMPTON, Calif. (PRWEB) January 22, 2019
Pro Comp is proud to announce the arrival of 4"-5" suspension kits for the 2018-19 Jeep® JL Wrangler Unlimited. These coil spring systems provide the boost in height needed to clear 37-inch tires for some serious off-roading. Rubicon models will achieve four inches of lift due to taller stock height, while Sport and Sahara models achieve five inches of lift. Complemented by ES9000 nitrogen-charged twin tube shocks, the linear coil spring rates were selected for bump compliance, balanced handling and stability. Adjustable-height bump stops keep compression travel in check during enthusiastic off-road outings. An adjustable front track bar, geometry correction brackets, extended sway bar end links and a rear track bar bracket maintain on- and off-road stability. A rear frame-mounted track bar bracket installs with ease and keep the axles centered. Geometry correction brackets for the front arms and extended sway bar end links preserve factory operating angles for same-as-factory driving feel.
"We're proud to offer a high performance JL suspension kit that allows JL owners to tackle hardcore off-road terrain while maintaining the Jeep's driveability," said Ted Moncure, Director of Engineering at Transamerican Auto Parts. "With 37-inch tires you can do some serious off-roading without having to sacrifice comfort on your daily commute or day-to-day activities."
Pro Comp backs its products with rigorous safety tests and some of the industry's strongest warranties. Unlike other manufacturers who self-test through laboratory simulation, Pro Comp receives certification through the Federal Motor Vehicle Safety Standard (FMVSS 126) test, where a product's true capabilities can be measured accurately and proven to complement the vehicle's factory safety system. The Pro Comp Promise Warranty promises that all suspension products are free of defects and will last a lifetime, or it will be replaced free of charge. Finally, the Lift Shield Warranty goes beyond a typical product guarantee and protects the vehicle on which it is installed for 5 years or 60,000 miles (whichever comes first).
The Pro Comp 4"-5" Jeep® Wrangler JL Kits start at US $998.99 MSRP and are available as a base kit or with Pro Comp twin tube shocks.
Features:

Coil springs with increased linear rates
Heavy duty adjustable front track bar
Rear frame-mounted track bar bracket
Geometry correction brackets
Extended sway bar end links
Adjustable-height bump stops
Kits comes with or without ES9000 nitrogen-charged shocks
Clears 37-inch tires
Four inches of lift on Rubicon JL models
Five inches of lift Sport and Sahara JL models
FMVSS 126-certified
Pro Comp Promise and Lift Shield Warranty
Part Numbers:
K3113 - Pro Comp 4-5 inch Stage 1 Kit for JL Unltd 4 Door
K3113B - Pro Comp 4-5 inch Stage 1 Kit for JL Unltd 4 Door with ES 9000 twin tube shocks
Images and Copy: http://bit.ly/ProComp_JL_K3113
For more information, please contact:
Joy Aoki
Manager of Marketing Communications | Transamerican Auto Parts | 310-900-2614 | jaoki(at)4wp(dot)com