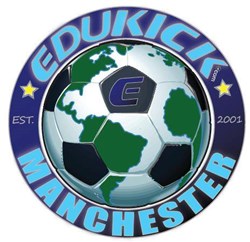 'We have come to realize that young soccer players want opportunities and trials to measure themselves and see if their dream to play professionally is feasible. We attempt to provide these opportunities at EduKick.' - Joey Bilotta, President & Founder
Manchester, England (PRWEB) December 02, 2013
EduKick Manchester Football & Education Academy visited Burnley F.C. Professional English Football Club on Wednesday, November 27th for a professional guest coaching session as part of their unique soccer and education academy.
Exposure to professional clubs is provided on a constant basis throughout the duration of the EduKick Manchester Football Academy program via competitive matches, professional club guest coaching sessions and organized open football trials.
EduKick Manchester is a UK based football academy for competitive international soccer players from 14-24 years of age that also offers full-time educational options (ESL, EFL, BTEC Sports Science, English Language Study, IGCSE and A-Level, and USA 8-12 Online Distance Learning). See the EduKick Manchester "Course Video" here.
EduKick is providing their young, aspiring professional players with the opportunities and exposure required for the most talented to get noticed and possibly be offered a professional contract. On a regular basis, the EduKick Manchester squad will plays "Competitive Friendly Matches" against professional and semi-professional club youth academy or development squads or against local North West English College squads whose coaches are also scouts for professional and semi-professional football clubs.
These matches provide a regular opportunity for participants to showcase their talents directly and indirectly to clubs. Follow up matches are often organised later in the season so the clubs and College scouts can measure the progress of our participants. These fixtures also allow the players the opportunity to put into practice the work they have done in training sessions and are followed up with squad meetings to review performance and progression.
The EduKick Manchester academy arranges two categories of fixtures: "Development Fixtures" where all available players receive equal playing time and exposure and "Target Fixtures" - where a squad is selected based upon performance in previous training sessions and development games. Thus, encouraging the players to work hard to be selected just as they would in the professional soccer world.
A second way EduKick Manchester provides opportunities and exposure is by inviting professional English football clubs to conduct guest coaching sessions for the participating EduKick Manchester academy players.
EduKick Manchester has affiliations with many professional clubs in the North West of England and each month the EduKick Manchester squad receives two guest coaching sessions from the professional club's coaches. One session will take place at the EduKick Manchester training complex and the second follow up session will take place at the facilities of the professional club itself.
Participants are exposed to all levels of the professional game in England and the sessions help participants to measure their ability level with that required of a professional club academy player. It also provides them with a direct trial exposure opportunity. EduKick President, Joey Bilotta, says, "We have come to realize that young soccer players want opportunities and trials to measure themselves and see if their dream to play professionally is feasible. We attempt to provide these opportunities at EduKick."
The guest coaching sessions will be conducted by a selection of the following EduKick Manchester affiliate professional clubs: Blackburn Rovers FC (Championship), Wigan Athletic FC (Championship), Burnley FC (Championship), Blackpool FC (Championship), Preston North End FC (League 1), Oldham Athletic FC (League 1), Bury FC ((League 1), Fleetwood Town FC (League 2), Rochdale FC (League 2), Morecambe FC (League 2), Accrington Stanley FC (League 2) and Stockport County FC (Blue Square North).
EduKick Manchester has already had guest coaching events with Blackburn Rover Football Club and Burnley Football Club.
The EduKick team were invited to the academy and first team training ground for a two hour session with the Burnley F.C. coaches. As it was a rest day for the pros, the EduKick Manchester lads had the facilities all to themselves and therefore followed in the footsteps of the first team, using the first team dressing room and facilities, something not many groups ever get to do.
At the training ground, the Burnley F.C. coach took the lads for a second coaching session, building on the points from the original session earlier in the month. this is a great chance for the players to see how the pro clubs operate, and to highlight that the training they do on a daily basis with EduKick Manchester is just as intensive and structured as the pros daily routine.
The last way EduKick Manchester creates opportunities and exposes its academy players is by enrolling them in "Open Trials." All EduKick Manchester participants are entered into open trial events that take place in the North West during the Winter, Spring and fall (Autumn) seasons.
EduKick has carefully selected and partnered with a well-respected and ethically-minded UK national scouting and trials organisation to give participants the maximum opportunity to expose their talents in front of the invited professional and semi-professional club scouts and coaches.
In the weeks leading up to the open trials event, the EduKick participants will be visited by one of the national scouting and trials organization coaches who will deliver a guest coaching session and ensure all our participants are ready and prepared for the trial. At the end of the open trial event, each EduKick Manchester participant will receive direct feedback from the national scouting and trials organisation coaching staff. During the following week after the trial event, EduKick will be contacted by the national scouting and trials organisation to arrange individual follow up trials for any selected participants.
Registrations are currently being accepted for the next Half-Year academy course that begins on January 6th, 2014 and for the next academic year course that begins in September, 2014. Monthly and weekly programs are also available. Interested parties should contact EduKick directly at the contact information provided in this release.