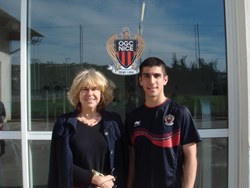 Adam's attitude and dedication to his football training is excellent. Its refreshing to see a deserving player like Adam being recognized by such a well-respected professional French club (OGC NICE)... ~EduKick's Joey Bilotta
Nice, France (PRWEB) February 12, 2014
Canadian soccer player, Adam Hemati (19 years old from Ontario), who is currently enrolled in the EduKick France - Michel Hidalgo International Football Academy (HIFA) has been training and impressing coaches for the last two weeks with France Ligue 1 side, OGC Nice.
Hemati enrolled in the EduKick France - HIFA soccer academy course, as many young footballers do, in an attempt to raise the level of his game and hopefully secure opportunities and exposure with professional European clubs. And seemingly Hemati has done just that.
Hemati arrived in Cannes, the home base of EduKick France- HIFA and began training immediately with affiliated club, Cannes La Bocca USCBO and HIFA Technical Football Director, Alain Aschbacher (a former professional player in France and Germany). As part of the EduKick France - HIFA course, he resides at the International College of Cannes and studies French language in additional to his daily football training.
However, Hemati, already an accomplished French speaker, clearly is in France to pursue his footy career. And HIFA Technical Director, Mr. Aschbacher immediately appreciated the raw soccer talent Hemati possesses and within weeks invited a professional football scout from OGC Nice to watch Hemati play. Hemati once again impressed and so it was arranged that Adam would join OGC Nice to begin training there, an accomplishment that Hemati, HIFA and EduKick are all very proud of.
EduKick Founder and President, Joey Bilotta says, "Adam's attitude and dedication to his football training is excellent. It's refreshing to see a deserving player like Adam being recognized by such a well-respected professional French club. He comes from the North American soccer hotbed of Toronto, Ontario and is a uniquely talented player..., hopefully he continues to impress at OGC Nice."
Hemati's character also impressed Michel Hidalgo International Football Academy Director, Laurence Potier who commented, "Adam is a charming and well-educated young man. I'd love to have dozens like him in our Academy."
Another professional French club, AS Cannes, also a direct football contact of EduKick France - HIFA, is also keen to see more of Hemati and has also invited him to train there as well.
Hemati recently contacted the EduKick Head Office by email with this glowing testimonial:
"I had a good feeling since the day I arrived in France. Everyone at the International College of Cannes is very nice, friendly and they do their best to accommodate all my needs. The location of the college is unbelievable. It is right next to the beautiful beach. In regards to the soccer aspect, things have moved very fast for me.
I was playing with Cannes La Bocca for the first 2 weeks and had two extra physical sessions with the trainer here. At La Bocca, they noticed that I had the potential to play at a higher level. I am currently playing with OGC Nice and it is unbelievable. I am very happy with what has happened to me so far but still have a long way to go to achieve my goal. The EduKick France - Hidalgo Academy has really given me the opportunity to showcase my ability and prove myself as a footballer. Thanks a lot for all your support, I really appreciate everything. I hope to keep on impressing and progressing here in order to be able to sign permanently and get closer to becoming a professional."
For more information on the EduKick France - Michel Hidalgo International Football Academy please contact EduKick directly at the contact information provided in this release.
EduKick provides football & education academy residential boarding schools in SPAIN, ENGLAND, FRANCE, ITALY, GERMANY, BRAZIL, MEXICO and USA with full-time educational options (ESL, EFL, BTEC Sports Science, Foreign Language Study, IGCSE and A-Level, and USA 8-12 Online Distance Learning).