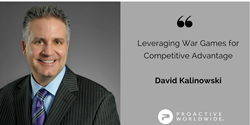 Chicago, IL (PRWEB) October 20, 2017
Prominent strategic partner and war-gaming expert David Kalinowski of Competitive Intelligence Research firm Proactive Worldwide (PWW) will host a war-gaming workshop aimed at improving insurance research outcomes. His talk is scheduled for Monday Oct. 22 at 1:15pm, in the Commercial Track at the Society of Insurance Research's 47th Annual Conference and Exhibit Fair at The Pfister Hotel in Milwaukee, WI. The theme of this year's SIR event, which takes place from Oct 22-25, is "Moving Past Disruption to Competitive Advantage."
Kalinowski said that his session, "Leveraging War Games for Competitive Advantage," is the unique culmination of his knowledge earned from years of dedicated research and practice in war-gaming services. "As a firsthand witness and past participant, I appreciate the impact and educational value SIR's annual conference continues to have on expanding insurance research proficiencies. I'm honored to be invited back for the sixth straight year to contribute this event," he added.
Kalinowski also remarked that historically, intelligence practitioners often struggle with linking intelligence to decision-making. By introducing war games in this session, he said, "My goal is to demonstrate how incorporating this strategic role-playing tool to better understand the competitive landscape, not unlike a decisive chess game in which one must consider all angles while thinking several moves ahead, will bridge that gap."
For more information or to register for this event, please visit the following site: http://www.sirnet.org/SIRMember/Events/iCore/Events/Events_List.aspx
About Proactive Worldwide, Inc.
Proactive Worldwide, Inc. is a global research and strategic intelligence consulting firm that provides evidence-based, constructive information within the competitive intelligence, market intelligence, and customer insights domains. Anchored by primary source research for over 21 years, Proactive's multilingual professionals assist our clients with offerings that include but are not limited to competitive research services, competitor assessments, market entry and defense strategies, war gaming simulations and scenario planning events, and customer experience and user experience studies. To learn more, visit http://www.proactiveworldwide.com.