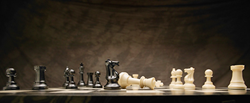 Troy, NY (PRWEB) September 25, 2014
Healthcare marketing agency Smith & Jones released a new issue of Protocol, titled "Proactive vs. Reactive Healthcare Marketing." Accessible at smithandjones.com, this marketing report for c-level hospital executives and practice administrators discusses how to prevent outside factors from derailing your hospital's marketing strategy.
What separates proactive from reactive marketing is strategy. It's important for healthcare organizations to understand their brand messages and goals, and what steps they need to take to reach them. The alternative is reactive marketing, which is when an organization constantly changes tactics in response to environmental factors, such as the competition, internal chatter and crises.
"A proactive marketing approach includes a solid plan based on goals, research and analytics," said Mark Shipley, Strategy Director and Co-founder of Smith & Jones. "While the plan allows for changes related to campaign performance and shifting priorities, it's important to evaluate all tactics to make sure they fall in line with the overall brand message and goals."
This issue of Protocol discusses the three main reasons marketing plans get thrown off course, including the competitive environment, internal pressure and crisis management, and how to prevent them from unraveling your hospital's marketing plan.
Access "Proactive vs. Reactive Healthcare Marketing" and join our email list for notifications of future publications at: http://www.smithandjones.com.
About Smith & Jones
Smith & Jones is a healthcare marketing agency based in Troy, NY, that specializes in marketing for hospital systems and large physician practices. Learn more at http://www.smithandjones.com.