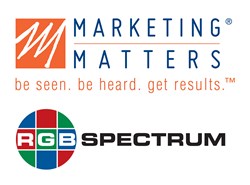 "Considering that our products are consistently relied upon in high profile applications, we sought out to find a public relations agency that knew how to reach our customers in those markets." - Jed Deame, vice president of marketing for RGB Spectrum
Hollywood, Fla. (PRWEB) October 24, 2013
Marketing Matters, a strategic integrated public relations, marketing and advertising agency specializing in technology, consumer and custom electronics, has been named the public relations agency of record for RGB Spectrum, an industry leader in videographic products.
As part of the partnership, Marketing Matters will work with the executive team at RGB Spectrum to develop and execute integrated public relations campaigns to promote the unique benefits of the company's sophisticated video controllers and multi-view processors. The objectives will include the promotion of RGB Spectrum's products among B2B audiences for applications in the audio-visual, industrial, medical, and military industries.
"RGB Spectrum's technical prowess is clearly indicated in the quantity and breadth of the successful case studies their products have produced in various technology markets," said Coleen Sterns, president and founder of Marketing Matters. "Our team will take a creative approach to bringing these achievements in videographic systems to the public eye by implementing focused public relations strategies that take into account the revolutionary aspect of these products."
"Marketing Matters is well known for approaching technology with a keen perspective and recommending concepts and designs that get results," said Jed Deame, vice president of marketing for RGB Spectrum. "Considering that our products are consistently relied upon in high profile applications, we sought out to find a public relations agency that knew how to reach our customers in those markets."
For more information on Marketing Matters and RGB Spectrum, please visit http://www.marketingmatters.net or http://www.rgb.com, respectively.
About Marketing Matters
Founded in 1997, Marketing Matters is a full-service integrated marketing communications agency based in Hollywood, Florida. The agency offers turnkey management and high quality marketing materials and services, helping its clients manage their brands effectively and in turn expand their market presence. Among Marketing Matters' specialized services are: Advertising, Media Planning & Buying; Blog Posts; Catalog Design; Corporate Branding (logo development); Corporate Event Planning; Custom Newsletters; Collateral (Flyers, pamphlets, brochures); Direct Mail Campaigns; Search Engine Marketing and SEO; Pay-Per-Click Campaigns; Public or Media Relations; Social Media; Strategic Planning/Consultation; Survey Building; Trade Show Booths, Support and Promotions; Website Design. For more information about Marketing Matters and its services, visit http://www.marketingmatters.net.
About RGB Spectrum®
RGB Spectrum provides innovative solutions for the display, recording, and transmission of computer and video signals. Since its founding in 1987, RGB Spectrum has established itself as a leading designer and manufacturer of cutting-edge video/graphics processors and decision support systems. With advanced capabilities, proven reliability, and flexible user interfaces, RGB Spectrum's products are preferred by a "Who's Who" list of major global organizations in industrial, security, medical, educational, commercial and military markets. Company offerings include multiviewers, video wall display processors, matrix switchers, streaming codecs and recorders, as well as integrated solutions for multi-user KVM and control room management. RGB Spectrum is a privately held company based in Alameda, California. For more information about our products, please call 510-814-7000 or visit us online at http://www.rgb.com.