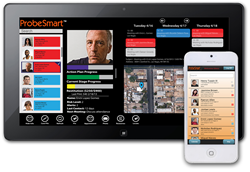 Designed specifically for probation agencies, the technology centralizes, analyzes, and ultimately delivers information to the officer filtering out "noise" so GPS alerts are more meaningful
Las Vegas, NV (PRWEB) February 24, 2014
A recent Los Angeles Times article dated February 15th, 2014, investigated Electronic Monitoring used to help "Los Angeles County deal with the influx of thousands of felons moved out of California's prison system to ease overcrowding." The article uncovered the disturbing issue of probation officers inundated with GPS alerts, forcing them to sort through at times as many as 1,000 alerts per day.
Recidivism Prevention Technology, developed in 2012 by GoldPost Technologies, Inc (GPT) is a risk monitoring system created to ease this technological overload, and solve the flood of meaningless data. Designed specifically for probation agencies, the technology centralizes, analyzes, and ultimately delivers information to the Probation Officer filtering out "noise" so GPS alerts are meaningful and more importantly, offenders are prioritized. "Whether it is a device tamper or geo-fencing violation, our system focuses on the meaningful information," said Barry Goldstein, President of GPT.
By identifying the key issues which probation departments noted as their most important, such as device tampering, low battery and geo-zone violation, the system's proprietary algorithms calibrate alerts by predicting the relative risk of each alert, and communicating the highest risk alerts accordingly. "What separates our technology apart from existing systems is that we specifically designed our product for Big Data problems just like the ones facing GPS monitoring devices," added Uttam Shah, GPT's Chief Development Officer. To look at this issue as a "Big Data" problem may not be an understatement, as the LA Times noted that "California's statewide system for monitoring sex offenders sends out as many as 40,000 alerts each month to state parole agents."
Probation Officers utilizing the system receive alerts in the field via a live feed on their mobile tablet providing detailed information on their Probationers. A mobile caseload may include a host of selected data including profile details, identifying photos, action plans, and case notes.
ABOUT GPT:
GoldPost Technologies, Inc (GPT) provides innovative enterprise mobile solutions and data intelligence technology for the management of public safety, corrections and law enforcement.