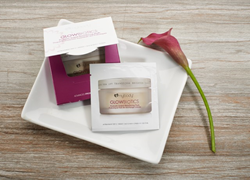 Phoenix, AZ (PRWEB) April 12, 2016
mybody is thrilled to have their highly-coveted GLOWBIOTICS Probiotic Instant Resurfacing Pads included in ipsy's April Beauty Glam Bag. Since this product's introduction in August of 2015, it has quickly become a fan favorite and guaranteed to become any woman's new beauty best friend. These clinical strength pads are formulated with a probiotic-rich Glowbiotics Balancing Complex and Kakadu Plum, the richest form of Vitamin C available, to help rehydrate, exfoliate, brighten and tighten dull, aging skin.
"We are so excited to have ipsters try these pads! Whether you're in your teens dealing with acne, or trying to stop the clock on maturing skin, the magic of probiotic technology helps treat and conceal redness and irritation, while reducing fine lines and pore size," says Abby Traister, Vice President of Marketing at mybody. "It's also the perfect on-the-go pad to help balance, strengthen and protect your skin for a luminous appearance."
These pads have harvested a massive amount of media attention having been featured in the W Magazine's article entitled "Ferment Nation," New Beauty's article "Bacteria for Beauty: How Probiotics Can Improve Your Skin," as well as New You's articles "Winter Wonderland" and "Pretty on the Inside," to name a few.
About mybody
mybody is the integrative approach for those who seek the best for their skin and their health. This complete advanced probiotic skincare line looks to the power of the human body to inspire how products should repair and nurture, with the goal of revealing healthy, radiant skin. Keeping all consumers in mind, mybody also strives to develop healthy skincare solutions free of any known endocrine disruptors including phthalates, dyes and sulfates and create products that are cruelty-free. Learn more at http://www.mybodyskincare.com.