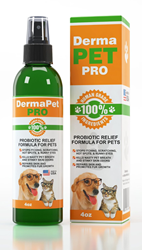 Los Angeles, CA (PRWEB) May 28, 2014
Instead of spending money on visits to the vet for issues like ear mites, watery eyes, hot spots, itching, gnawing and bad odors, Derma Pet Pro probiotic spray will allow pet owners to prevent these easily treatable conditions without incurring expensive medical costs at the vet.
"One of our goals with this product is to help pet owners frequent the veterinarians less. The only way to do that is for their pets to have optimal health and not need the visits because nothing is wrong. That is what this probiotic spray for dogs can help to do when used regularly," says Dermat Pet Pro co-founder, Jimena Cortes.
In the U.S. last year, pet owners spent over $55 billion on pet care, and the cost of veterinary care is only increasing. According to the APPA (American Pet Products Association), American pet owners are set to spend nearly $60 billion on their pets this year. Regular checkups, X-rays and tests, even if your dog is healthy can end up costing you hundreds of dollars.
It is estimated that over $15 billion will be spent on vet care this year and another $13 billion will be spent on over-the-counter medicines and other pet supplies. Part of this increase is due to advances in veterinary medicine that can cure illnesses in pets that before were untreatable. Pet owners are spending more money to extend the lives of their pets, paying thousands of dollars for expensive surgeries, routine procedures and chemotherapy.
Add to these trends the fact that pet ownership has increased by more than 10% over the last 25 years. In 1988, 56% of American households owned a pet. Today, pet ownership is at 68%. More than 60% of American households report owning at least one pet. Of those households, more than 36% own a dog.
"We are very excited to launch this product on Amazon because we see a great need for pet owners to have access to all natural products made in the U.S.A that keep their pets healthy, smelling good, and looking good," Jimena Cortes, co-founder.
Probiotics are widely used in humans to promote gastrointestinal health. They work by counteracting imbalances of microorganisms in the gut; increasing the beneficial microorganisms to counteract toxins secreted by harmful microorganisms. Probiotics perform the same function for dogs and animals, adding additional benefits to overall pet health.
Dermat Pet Pro is produced by C & J Enterprises and is available online through Amazon.
About Derma Pet Pro
Dermat Pet Pro is a probiotic spray for dogs made in the U.S.A. This spray gets rid of hot spots, itching, and gnawing as well as neutralizes bad pet odors, stops watery eyes, eliminates ear mites and promotes healthy fur growth. This product is 100% all natural and safe for all type of animals and can even help humans with their skin problems. For more information visit http://www.naturesperfectpets.com.