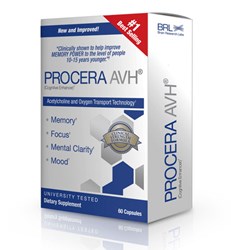 Procera AVH improves mental function and can help people think more clearly, regardless of their age.
Sarasota, FL (PRWEB) September 30, 2013
Brain Research Labs, a national leader in brain health supplements, announced that Dr. Arnold Bresky, "The Memory Doctor", has recorded a new infomercial in which he discusses the many brain health and fitness benefits of Procera AVH, the country's leading cognitive enhancer.
Dr. Bresky the creator of the Medicare reimbursed Brain Tune Up Program, called Procera AVH® the best supplement on the market today for improving memory, mental clarity, focus and mood.
He recommended it for anybody seeking to sharpen their mental clarity and improve their cognitive performance, from students looking to accelerate their ability to learn and ace exams, to seniors struggling to hold onto their mental acuity and memories.
According to Dr. Bresky, Procera AVH improves mental function and can help people think more clearly, regardless of their age.
"Procera AVH accomplishes this in three ways, directly addressing what's going on in the brain," Dr. Bresky said in the new infomercial. "First, brain cells can die when the circulation and oxygen to the brain declines, as it does with age. Procera helps increase blood flow to your brain, supplying it with more oxygen and more vital nutrients."
"It's like when you go outside and take a breath of fresh air on a cool day," Dr. Bresky said.
Procera AVH® – an all-natural, drug-free supplement -- also helps improve neurotransmitter levels in the brain, the chemical messengers that are responsible for memory, alertness, focus and concentration decision-making and mood, according to Dr. Bresky.
In addition, Procera AVH helps fight free radicals, the brain-dulling compounds created by environmental toxins, he said.
In a recent double blind, placebo-controlled clinical trial that was conducted with subjects ranging in age from 20 to 65, Procera AVH was shown to boost several types of memory, as well as concentration and mood. The study also was peer reviewed and published in the Journal of American Nutraceutical Association.
Dr. Bresky is among the world's most celebrated Brain Health Physicians and is the author of the book "4 Pillars of Brain Health". In 2009, he was honored in Los Angeles by the mayor, who declared the entire month of May "Brain Health Month" in Dr. Bresky's name. And, his "Brain Health and Protection" seminars are immensely popular.
Brain Research Labs, LLC (BRL) is located in Sarasota, FL. It was founded by Dr. Robert Heller, MD and brain researcher, Joshua Reynolds. BRL is dedicated to developing "clinically tested" science-based services and products, such as Provera AVH, that serve the three primary areas of the brain:

Neuro-Nutrition – Foods and supplements that enhance the brain's performance and protection.
Neuro-Stimulation – Mental activities and exercises that keep the brain young, fit and sharp.
Neuro-Relaxation – Tools and technique that keep the brain calm, stress-free and healthy.
Procera AVH contains naturally derived ingredients, acetyl-l-carnitine, vinprocetine and huperzine,.each having over 25 years of clinical research and use, worldwide.
For more information on Procera AVH, the clinical study and peer reviewed journal article referenced by Dr. Bresky, and the science behind the ingredients along with scientific references, visit: https://www.proceraavh.com/.
# # #
To learn more about Brain Research Labs and Procera AVH, please visit BrainResearchLabs.com.