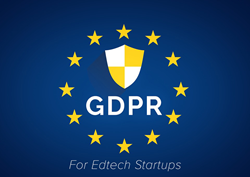 The Ed Tech companies that will be the most successful over the next ten years won't just comply with GDPR, but embed GDPR's core principles into their business practices.
SCOTTSDALE, Ariz. (PRWEB) February 11, 2019
A record number of 1,500 session ideas were entered via PanelPicker for this year's SXSW EDU Conference, held in Austin, Texas. Voters have selected and confirmed a joint session consisting of representatives from Proctorio, Instructure, and Future Privacy Forum. The panel is moderated by Mallory Dyer, Director of Product Development at Proctorio, and will address "Why GDPR Matters for Ed Tech Startups."
Mike Olsen, Founder & CEO of Proctorio, will join Chris Takemori, Associate General Counsel, Privacy and Product at Instructure, and Sara Collins, Policy Counsel for the Education Privacy Project at the Future of Privacy Forum to discuss the importance of new definitions and regulations that have developed regarding personal data since the growing significance of GDPR in recent years.
Mike Olsen stated, "Digital natives are in a position where they have little choice but to engage in a marketplace that has moved online. That includes where a lot of their education is happening. There's no reason why they shouldn't be entitled to basic privacy rights and data protection. Especially when startups have access to all the tools they need to ensure compliance with GDPR. Now, more than ever, it is extremely crucial for startups to set precedence by proving their commitment to protecting user data."
Looking forward, Sara Collins stated, "The Ed Tech companies that will be the most successful over the next ten years won't just comply with GDPR, but embed GDPR's core principles into their business practices."
A company's commitment to GDPR represents the foundation of trust between the consumer and the business. According to Chris Takemori, "Protecting the privacy of our users, whether they be students, teachers, or administrators, is essential to our mission at Instructure. We believe this enables deeper learning and fosters innovation in education because users feel fully protected when utilizing our solutions."
The 2019 SXSW EDU Conference will take place in Austin, Texas from March 4-7. The annual educational conference will include the four-day exhibition, informational sessions, networking opportunities, competitions and more. SXSW EDU focuses on innovation in education and discussions will touch on nearly every educational topic. The panel discussion "Why GDPR Matters for Ed Tech Startups" will take place on March 7th from 11am to 12pm in room 16AB at SXSW EDU in Austin, Texas.
About Proctorio:
Proctorio is a fully automated, remote proctoring service that provides a scalable, cost-effective solution to validating test-taker identities, activities, and originality during online exams. Proctorio ensures the integrity of distance learning and online certifications while protecting institutional accreditation, increasing the value of online degrees & credentials, and helping institutions grow their programs.
Proctorio's customizable, secure exam settings, recording options and live ID verification allow institutions to set-up unscheduled, on-demand proctoring specific to their assessment needs. Proctorio ensures fairness for test-takers by increasing accountability, securing exam content, deterring cheating, and promoting a culture of academic integrity while improving learning outcomes. proctorio.com
About Future of Privacy Forum:
FPF brings together industry, academics, consumer advocates, and other thought leaders to explore the challenges posed by technological innovation and develop privacy protections, ethical norms, and workable business practices.
FPF helps fill the void in the "space not occupied by law" which exists due to the speed of technology development. As "data optimists," we believe that the power of data for good is a net benefit to society, and that it can be well-managed to control risks and offer the best protections and empowerment to consumers and individuals.
About Instructure:
Instructure, Inc. is the leading software-as-a-service (SaaS) technology company that helps people learn and develop, from their first day of school to their last day of work. Its software solutions include Canvas, the learning platform that simplifies teaching and elevates learning, and Bridge, the employee development and engagement solution for people-focused companies. To date, Instructure has connected millions of educators and learners at more than 4,000 educational institutions and corporations throughout the world. Learn more about Canvas for higher ed and K–12, and Bridge for the corporate market at http://www.instructure.com.