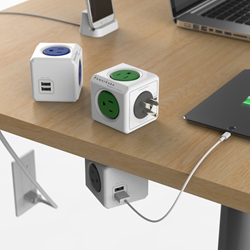 Washington, DC (PRWEB) November 19, 2014
"PowerCube" was featured on NewsWatch as part of its monthly Tech Report, which features the latest and coolest technology products available to consumers. Mallory Sofastaii, a technology expert and reporter for NewsWatch, conducted the product review and shared with viewers how it has revolutionized the tired power bar.
In 1972, the first power strip was invented by an Australian electrical engineer. Since then, the technology has evolved, yet surprisingly the design has remained the same – a rectangular strip with outlets. PowerCube has redesigned the tired powerstrip and compressed it into a single block, while adding a few nice additions like USB outlets.
There are four designs to choose from – each a different color. The basic and original design is the green model, which plugs directly into the wall and has five AC outlets. The next version is the Blue Model, which is the same concept but it replaces one of the outlets with 2 USB ports – so users can charge their phone, tablet, or camera. The third version is the red model, which is similar to the green but with an extension cord and a wall mount. And the final version is the gray model which includes a five foot extension cord, USB ports, and a wall mount.
If users want to, they can plug them into one another to create a massive power strip with tons of plugs. It's a very unique and cool redesign on the traditional power strip. The prices range from $12.95 to $24.95 and can be purchased at http://www.powercube-usa.com.
About NewsWatch
NewsWatch is a weekly 30-minute consumer oriented television show that airs on the History Channel, FYI Network, and ION Network. NewsWatch regularly features top technology products and services, mobile applications for iOS, Android, and Windows devices, unique and beautiful travel destinations around the world, health and medical tips, and entertainment interviews on the show. NewsWatch airs on the History Channel at 6:00 – 6:30 AM ET/PT and on the FYI Network from 7:00 – 7:30 AM ET.
NewsWatch is located in the greater Washington, DC area and has been on air for over 25 years. For more information or to watch the most recent episode, visit http://newswatchtv.com/tech-report.html.