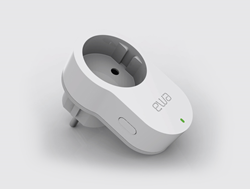 Washington, DC (PRWEB) November 21, 2014
"EWA Smartplug" was featured on NewsWatch as part of its monthly Tech Report, which features the latest and coolest technology products available to consumers. Mallory Sofastaii, a technology expert and reporter for NewsWatch, conducted the product review and shared with viewers how it's an affordable and easy to use home automation tool.
One of the major themes at this year's IFA in Berlin was home automation. There's large home units that require installation, then there's options like the EWA Smartplug that are less expensive, don't require installation, and just as effective.
With the EWA Smartplug, consumers plug in any device and set it up within about 15 seconds. Then they can connect to the smartplug over wifi and manage the settings and dynamically monitor its power consumption. If a dimmable light is plugged into the smartplug, consumers can have the light turn off and on at certain hours, and dim during others. They can then dive into the light's consumption to see how many kilowatts it's using during specific hours, days, months, even years.
The EWA Smartplug also has an alert function where users receive notifications via email or text when certain items are used – say when their kids come home and turn on the television. If parents don't want that device on, they can turn it off remotely.
The EWA Smartplug also has an internal temperature sensor – so if the house goes above a certain degree, the AC unit will automatically turn on.
To learn more, visit http://www.ewahome.com.
About NewsWatch
NewsWatch is a weekly 30-minute consumer oriented television show that airs on the History Channel, FYI Network, and ION Network. NewsWatch regularly features top technology products and services, mobile applications for iOS, Android, and Windows devices, unique and beautiful travel destinations around the world, health and medical tips, and entertainment interviews on the show. NewsWatch airs on the History Channel at 6:00 – 6:30 AM ET/PT and on the FYI Network from 7:00 – 7:30 AM ET.
NewsWatch is located in the greater Washington, DC area and has been on air for over 25 years. For more information or to watch the most recent episode, visit http://newswatchtv.com/tech-report.html.