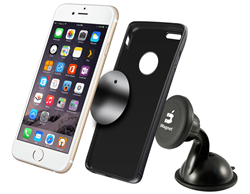 Washington, DC (PRWEB) December 04, 2014
The "iMagnet" Car Phone Holder was featured on NewsWatch as part of its monthly Tech Report, which features the latest and coolest technology products available to consumers. Mallory Sofastaii, a technology expert and reporter for NewsWatch, conducted the product review and shared with viewers how it magnetically holds a phone on a car dashboard without leaving residue behind.
Smartphones do just about anything short of tying a shoe. One of the places it's most used is in the car, whether for GPS, making a call, or playing music. Safety while driving is important, so check out iMagnet.
iMagnet is the original magnetic car phone holder. With iMagnet, users may mount their phone in one fluid motion - it snaps right on and allows drivers to go hands free. The mount has a suction cup that works on any non-porous textured dashboard from lacqured wood to plastic, with no residue left behind. While many suction cups can be unreliable, the iMagnet suction cup is 2 times stronger than others on the market and also has a layer of sticky adhesive that bonds stronger to the dash.
After a driver puts the mount on their dash or window, all they have to do is place the metal plate inside their phone case or inside the battery case and the magnet will catch. The magnet is strong enough to hold a phone when a car hits a hump, but not so strong that it's hard to move.
Drivers can get themselves an iMagnet for only $22.99 by heading to http://www.imagnetmount.com.
About NewsWatch
NewsWatch is a weekly 30-minute consumer oriented television show that airs on the History Channel, FYI Network, and ION Network. NewsWatch regularly features top technology products and services, mobile applications for iOS, Android, and Windows devices, unique and beautiful travel destinations around the world, health and medical tips, and entertainment interviews on the show. NewsWatch airs on the History Channel at 6:00 – 6:30 AM ET/PT and on the FYI Network from 7:00 – 7:30 AM ET.
NewsWatch is located in the greater Washington, DC area and has been on air for over 25 years. For more information or to watch the most recent episode, visit http://newswatchtv.com/tech-report.html.