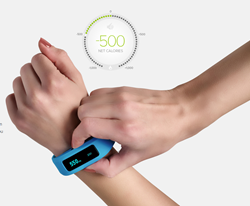 The iFit Active Band is fashionable, fun, and informative! What's not to love?
Washington, DC (PRWEB) December 05, 2014
The "iFit Active Band" was featured on NewsWatch as part of its monthly Tech Report, which features the latest and coolest technology products available to consumers. Mallory Sofastaii, a technology expert and reporter for NewsWatch, conducted the product review and shared with viewers how the fitness tracker's display sets it apart from the competition.
Wearable tech has been extremely popular this past year, especially in the fitness category. Anyone trying to figure out which fitness tracker to get for a holiday gift should consider the iFit Active band. The iFit will track sleep, calories consumed and burned, as well as steps taken throughout the day. And while there are a few fitness trackers out there, what makes iFit Active different is its display.
While other fitness trackers require users to log in to an app on their smartphone to check stats and information, the iFit Active band tells users right in the display. But if they want an app, they also offer one for more detailed information. The iFit Active band syncs with iOS or Android phones and automatically creates workouts for iFit-enabled fitness equipment to complete daily activity goals. And if users find themselves sitting around, it will give them a gentle alert on the display and a buzz to get moving.
The iFit Active tracker band is versatile as well. Wear it on a wrist, clipped to clothing or just put it in a pocket. A range of colors are available to coordinate with a daily looks as well. Consumers can pick up an iFit at Sears, Sports Authority, Walmart and other fitness retailers for only $129. For more information, visit http://www.iFit.com.
About NewsWatch
NewsWatch is a weekly 30-minute consumer oriented television show that airs on the History Channel, FYI Network, and ION Network. NewsWatch regularly features top technology products and services, mobile applications for iOS, Android, and Windows devices, unique and beautiful travel destinations around the world, health and medical tips, and entertainment interviews on the show. NewsWatch airs on the History Channel at 6:00 – 6:30 AM ET/PT and on the FYI Network from 7:00 – 7:30 AM ET.
NewsWatch is located in the greater Washington, DC area and has been on air for over 25 years. For more information or to watch the most recent episode, visit http://newswatchtv.com/tech-report.html.