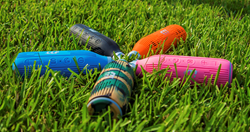 Washington, DC (PRWEB) December 09, 2014
"Malektronic" was featured on NewsWatch as part of its monthly Tech Report, which features the latest and coolest technology products available to consumers. Mallory Sofastaii, a technology expert and reporter for NewsWatch, conducted the product review and shared with viewers how they offer a variety of sleek speakers that utilize Bluetooth 4.0 and NFC technology.
Malektronic offers a variety of speakers that won't break the bank. Their slick options utilize modern technology at a reasonable price point.
Three speakers worth mentioning, the Malibu 2.0, the Malibu Elite, and the Rocket, are among the best from Malektronic. The Malibu 2.0 offers a more portable experience, however its size doesn't change the quality of its sound. The Malibu Elite is a larger version so it's much more suitable for a house or office. Lastly, the Rocket is convenient for a hike or day at the beach - it's splash proof and has a battery life of up to 20 hours.
The Rocket comes in 6 different colors: black, orange, camouflage, pink, light blue, and Bolts Blue. The 2.0 is a mere $99.99, the Elite $149.99 and the Rocket only $109.99.
To learn more, visit http://www.malektronic.com.
About NewsWatch
NewsWatch is a weekly 30-minute consumer oriented television show that airs on the History Channel, FYI Network, and ION Network. NewsWatch regularly features top technology products and services, mobile applications for iOS, Android, and Windows devices, unique and beautiful travel destinations around the world, health and medical tips, and entertainment interviews on the show. NewsWatch airs on the History Channel at 6:00 – 6:30 AM ET/PT and on the FYI Network from 7:00 – 7:30 AM ET.
NewsWatch is located in the greater Washington, DC area and has been on air for over 25 years. For more information or to watch the most recent episode, visit http://newswatchtv.com/tech-report.html.