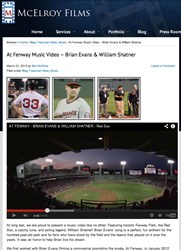 A quality video will give the consumer enough information to make an informed web purchase.
Boston, MA (PRWEB) August 29, 2013
The art of creating a successful business has evolved greatly over history, but one thing is a constant: When a business is trying to sell a product or service, it has to make itself visible to as many consumers as possible. In 2013, a video production firm in Boston, McElroy Films LLC is doing just that not only for itself, but also for its clients. McElroy Films has teamed up with brands such as Honeywell, PUR Water, Vicks, STINGER, and Soft Heat and created videos that help each brand sell their products.
"With a quality video, you don't even need to see or hold the product at the store," explains Benjamin McElroy, owner and executive producer at McElroy Films. "A quality video will give the consumer enough information to make an informed web purchase."
According to census information, e-commerce has increased almost 5% from the first quarter of 2013 to the second quarter and accounted for over $60 billion in retail transactions in the second quarter. As the retail environment becomes safer and more robust, those numbers will only increase. A quality product video can help tap into online shoppers with clear and concise explanations of product features and professional quality cinematography that shows every angle of product. In 2010, 96% of shoppers online viewed videos and of those who watched product videos, 85% had a greater likelihood to buy than online shoppers that didn't view video (source). As such, over 50% of marketing professionals claim that video, over print and other content, has the best return on investment (Emarketer 2013).
"I personally shop online and I noticed that I was drawn to products that could clearly explain why they are better than their competitors. Video is the best tool for that purpose," Ben said.
Video also helps a company's visibility online. By carefully naming a video and embedding it on a company website, it can help consumers find your site on search engines such as Google or Bing as well as YouTube, the number two search engine on the web. Search engine optimization, or SEO, can effectively draw consumers in the market for your product to come to a business, rather than using broadcast and print to go to the consumers.
"The world has changed greatly in the last decade," Ben mused. "Now, my own business gets most of our clients through SEO and I no longer waste time on cold calling or print."
The key to a quality product video is to be both clear and concise. With a medium such as the internet where the user completely controls what he or she sees, reads and watches, high retention rates come at a premium. There's also an advantage to professional video services as according to Comscore, professional video, with the proper SEO, is 30% more effective than user-generated content.
"Everybody knows a good video when they see one, but might not necessarily understand why it's good," Ben explained. "That's why video professionals are invaluable. We know what makes a great video a great video and how to make your business a video that will represent your brand and maximize the return on your investment."
If you are interested in contacting McElroy Films, please call 781-229-5900 or visit our site.
ABOUT MCELROY FILMS
McElroy Films LLC is an award-winning producer of high definition video for corporate, educational, non-profit, wedding, music video, and independent film use. Serving the Massachusetts and New England area, McElroy Films' mission is to keep high definition video affordable without sacrificing quality. McElroy Films has assisted organizations throughout the Boston area increase their revenues and awareness by drawing in new clients and educating existing ones with concise, effective videos for the web and broadcast.