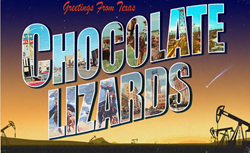 AUSTIN, Texas (PRWEB) October 15, 2021
Chocolate Lizards, the independent comedy-drama starring Academy-Award nominee Thomas Haden Church (Sideways, Divorce), Critically Acclaimed Actors Carrie-Anne Moss (The Matrix Franchise, Memento), Rudy Pankow (Outer Banks) Academy-Award nominee Bruce Dern (Nebraska, Goliath), and Julio César Cedillo (Sicario, Narcos: Mexico) commences Wednesday, October 13, 2021, in and around Austin, Texas.
Erwin Vandeveer (Rudy Pankow) is a Harvard-educated actor just recently fired from the first real acting job he's ever had in New Orleans. Headed home to L.A., his car breaks down outside Buffalo Gap, Texas. There, he meets colorful roughneck Merle Luskey (Thomas Haden Church), who is about to lose his oil drilling operation in 30 days unless he can come up with the money to pay off his bank note. Two down-and-outers at the end of their ropes, Erwin and Merle join forces with Faye (Carrie-Anne Moss), the manager of the local cafe and unofficial mayor of Buffalo Gap, in an unlikely scheme to avoid disaster and try to hit an oil bonanza before Merle's time runs out. With a little comical cunning and a lot more luck, the two just may pull off a last-minute miracle.
Based on the 1999 novel by Cole Thompson, the film is produced and directed by Mark Lambert Bristol (Mission Impossible: Fallout) and written by Julie B. Denny (Supercon) adapted from the novel by Cole Thompson. The film is produced by Julie B. Denny, Melissa Kirkendall (The Vast of Night) and Koen Wooten (gen:LOCK). Matthew Wise (Werewolves Within) will serve as cinematographer, Scott Daniel (Bigger, Line of Duty) will serve as production designer and Stephanie Corsalini (The Father, The Patriot,) will serve as casting director.
"We're excited to make this fan-favorite book into a film featuring local Texans at the helm. In addition, we are thrilled that we have such a wonderful cast to work in a picturesque area of Texas. We are confident that the natural settings will provide the perfect backdrop for this story," said director and producer Mark Lambert Bristol.
The production will employ approximately 75 Austin crew members, 22 Austin principal actors, and 230 Austin background talent.
Filming will continue through mid-November with an intent on taking the film to several major film festivals throughout 2022.
Thomas Haden Church is represented by CAA, Jen Turner at FINLEY Management, Jackoway Austen Tyerman Werteimer Mandelbaum Morris Bernstein Trattner & Klein.
Carrie-Anne Moss is represented by Hodgson Management, Viewpoint and Kleinberg Lange Cuddy & Carlo.
Rudy Pankow is represented by Ideal Talent Agency.
Bruce Dern is represented by Alan Somers.
For more information, please follow @chocolatelizards on Instagram.
#. #. #.