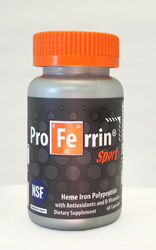 Frederick, CO (PRWEB) May 30, 2014
Colorado Biolabs, a Colorado based developer, manufacturer and marketer of Proferrin® brand Heme Iron Polypeptide (HIP), Proferrin® ES, and Proferrin® Forte, announces the launch of their newest formulation, Proferrin® Sport.
Proferrin® Sport is a daily sports supplement designed for the drug free athlete. It contains pomegranate extract rich in polyphenols which has been proven to improve strength recovery, reduce exercise related muscle soreness, and enhance exercise adaptation, while the proprietary Heme Iron supports maintenance of iron normally lost due to endurance training. This, plus key B-vitamins, supports the production of healthy red blood cells and an associated oxygen transport capability. Proferrin® Sport has met the stringent independent certification process guidelines of the NSF®, earning the NSF Certified for Sport® product label.
Pre-release trials of Proferrin® Sport by professional athletes have been overwhelmingly positive.
"I've been using the Proferrin product all season with great success. In addition to my rigorous training schedule, I've been to altitude twice this season. I don't think I would have recovered as well or made the fitness gains I've had without the use of Proferrin®"

Will Routley, Winner, Amgen Tour of California 2014 Michelob Ultra King of the Mountain
"I was psyched when Proferrin® came aboard as a sponsor of Optum Pro Cycling p/b Kelly Benefit Strategies this year. Using their Proferrin® product has allowed me to not worry about my ferritin and blood values dropping too much throughout the season, and even raised my ferritin level when it became low after an illness."

Carter Jones, Winner, Tour of Gila 2014
"I really do notice that I have more energy since I started taking it! I am a firm believer in Proferrin®. It has helped my body stay well balanced throughout all of the hard training and racing that I have put it through."

Ryan Anderson, Winner, Best Canadian Jersey, Tour of Alberta 2013
"Proferrin® Sport gives me the reassurance that I'm not deficient in iron without having to do a blood test; I know that by having Proferrin® Sport, I will always be at my peak performance and with the comfort of knowing that I'm taking a safe supplement."

Lauren Hall, Winner, Gent-Wevelgem, 2014
Proferrin® Sport is available for retail purchase through the Proferrin Sport website, as well as select online retailers. Wholesale inquires should contact Shannon Norris at 720-864-2890 Ext. 232.