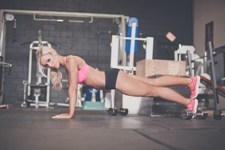 We are thrilled to have the opportunity to sponsor an aspiring athlete like Amanda, who embodies a healthy lifestyle that we and our customers believe in.
Toronto, ON (PRWEB) August 02, 2013
Bel Marra Health, the company that offers high-quality, specially formulated vitamins and nutritional supplements, is pleased to announce its first sponsorship of a professional athlete.
The nutritional supplement company has recently entered a partnership with Amanda Pereira, the first-sponsored Bel Marra Health Athlete. The company has agreed to support Pereira in her training and provide her with some of its industry-leading supplements to help her prepare for her next fitness competition.
Pereira, after years of taking Bel Marra Health supplements, reached out to the company to express her satisfaction with the products and the positive effects they had on her health and weight. The company soon reached back to Pereira and offered her the opportunity of a lifetime: to be the first-ever sponsored athlete to compete using the company's products.
Jim Chiang, President of Bel Marra Health, expressed the company's excitement at the new venture. "We are thrilled to have the opportunity to sponsor an aspiring athlete like Amanda, who embodies a healthy lifestyle that we and our customers believe in," he says.
Pereira, a 27-year-old dental hygienist from Mississauga, Ontario, had struggled with weight issues her entire life. Growing up in a culture and family where gatherings revolved around food, she found it difficult to maintain a healthy lifestyle and healthy weight. After years of difficult transitions and self-education on healthy lifestyle choices, Pereira began a full transformation to improve her overall health and weight.
"I educated myself on healthy eating habits and exercise routines, and through this transition I found a passion for fitness," says Pereira. The athlete took her passion for fitness further by signing up with personal trainer Michael Grayer, who helped her prepare to compete for her first show in May, 2013.
"Being able to go up and compete on stage after facing weight issues my entire life was an unimaginable feeling," she says. "Now, with the support from my trainer and sponsorship and products from Bel Marra Health, I can't wait to see what I will achieve at the next show in October."
Bel Marra Health will be providing Pereira with its clinically-proven products such as Real Green Coffee Weight Loss, LipoLose, and Immune Strong Cold and Flu Protection. "Seeing Amanda's accomplishments and her transition into a healthy lifestyle is truly inspiring," says Chiang. "We can't wait to see her succeed at her next competition. By incorporating our products into her rigorous training, I have no doubt that we'll see Amanda succeed on stage," he says. Bel Marra has also decided to feature Amanda's training story over the next few months as she prepares for her next fitness show.
Bel Marra Health is the maker of "LipoLose," a high-quality nutritional supplement designed to suppress one's appetite and promote fast, healthy weight loss. All ingredients are backed with scientific evidence. Every product is tested for safety, quality, and purity at every stage of the manufacturing process. For more information on Bel Marra Health visit belmarrahealth.com, or call 1-866-531-0466.