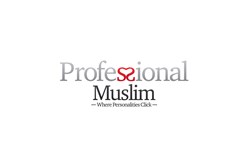 Professional Muslim, where personalities click.
(PRWEB UK) 13 September 2013
A unique matrimonial web portal launched by ProfessionalMuslim.com assists single, educated Muslim professionals in finding a compatible marriage partner to complete half of their faith as prescribed in Islam. Muslim professionals are finding it increasingly difficult to meet suitable and compatible matches for marriage. This common concern forms the very premise for ProfessionalMuslim.com's unique concept which differs from other matrimonial or networking websites: we believe that a lifetime of marital bliss actually begins with finding compatibility on all levels, both personal and professional.
For those Muslims who choose to pursue a professional vocation, a traditional arranged marriage may not always be an option. Often living away from their families due to work and given that Islamic rules on courtship do not permit dating, Muslim professionals frequently find prospects for the right partner for friendship, love and happiness within marriage via other means to be at best, limited. ProfessionalMuslim.com encourages members to be honest and sincere about themselves and what they seek in a future spouse in order to maximize responses from other members with the same objectives and optimize the search for a life partner.
ProfessionalMuslim.com recognizes that finding the perfect marriage partner requires far more than subscribing to a typical matrimonial site and filling out the usual online forms describing oneself and one's ideal match. Instead, ProfessionalMuslim.com focuses on the various dimensions of what matters most – compatibility.
The site features a series of multi-dimensional compatibility questionnaires addressing important aspects such as religiosity, personality, family, education and career. A detailed member profile allows the user to include a variety of information such as interests and activities, key qualities sought in partner and other personal details, all viewable at a glance. Given the modern trend towards social networking among professionals, a built-in social network feed also enables members to upload photographs and videos and post status updates.
ProfessionalMuslim.com takes pride in being culturally aware of and sensitive to the importance of relationships and marriage for Muslim professionals around the world and firmly believes that finding someone compatible is essence to one's future happiness. With ProfessionalMuslim.com, connecting with like-minded individuals is simple. The web portal ensures complete online safety and confidentiality, allowing members a secure environment in which to meet with other Muslim professionals with similar goals and interests.
Our interactive web portal is geared exclusively towards educated and working Muslim professionals and allows members to seek and communicate with potential matches to assess various dimensions of compatibility as well as the presence of similar goals and objectives in life and towards marriage. Though Muslim professionals may have a clear idea of what they are seeking in a life partner, avenues for meeting potential matches are often somewhat restricted. By joining ProfessionalMuslim.com, these avenues are vastly broadened and thus so are the opportunities to meet one's ideal match.
Throughout the Month of September, ProfessionalMuslim.com is offering users the chance to register for a free 3-month membership, so if you do happen to be a Muslim professional in search of a life partner, why not give this unique new web portal a try? As Muslims, we believe that humans are created in pairs – which means that somewhere out there, a match is waiting for you – very possibly on http://www.professionalmuslim.com.
In Sha Allah.