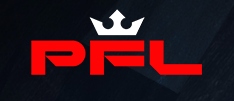 UNIONDALE, N.Y. (PRWEB) July 31, 2018
PFL5 THURSDAY FIGHT NIGHT – FIFTH REGULAR SEASON EVENT OF PROFESSIONAL FIGHTERS LEAGUE -- ON THURSDAY, AUGUST 2 AT 7 P.M. ET
PRESS CONFERENCE WITH LEAGUE PRESIDENTS CARLOS SILVA AND RAY SEFO AND PFL5 WINNERS WILL TAKE PLACE AT THE END OF THE NIGHT
WHAT: The Professional Fighters League will host PFL5—the league's fifth regular season event of its inaugural 2018 season. The event will feature nine exciting MMA fights, six lightweight bouts and three light heavyweight contests, 18 world-class fighters will come together to vie for a spot in the playoffs. Emerging stars from PFL1 will fight to maintain their rankings; those who lost their first match must prevail to keep their $1 million dreams alive.
WHEN: Thursday, August 2, 2018 at 7 p.m. ET (Pre-show at 6:30 p.m. ET. Doors open for media at 6 p.m. ET)
WHERE: NYCB LIVE, home of the Nassau Veterans Memorial Coliseum, located at 1255 Hempstead Turnpike, Uniondale, NY 11553
WHO: PFL5 will feature lightweight and light heavyweight fighters including, Chris Wade (Long Island-native from Islip), Will Brooks, Vinny Magalhaes and Brian Foster.
The Professional Fighters League presents MMA for the first time in a true sport format where individuals compete in a regular season, "win or go home" post-season, and championship. The PFL 2018 Season has 72 fighters in six weight-classes, competing in seven regular season events on Thursday nights in June, July, and August. The top eight in each weight class face off in single elimination playoff fights on Saturday nights in October and the PFL season concludes December 31 with six championship fights where winners will be crowned 2018 PFL Champion in their division and will go home with a $1 million purse. During the PFL post-season, $10 million will be awarded—the largest prize pool in MMA history.
MEDIA COVERAGE INVITED:
Date: August 2, 2018
Time: 7 P.M ET (Pre-show at 6:30 p.m. ET. Doors open for media at 6 p.m. ET)
Place: 1255 Hempstead Turnpike, Uniondale, NY 11553
PLEASE RSVP TO:
Amy Rosen
arosen@rubensteinpr.com
FOR ADDITIONAL QUESTIONS:
Greg Savage
gsavage@PFLmma.com