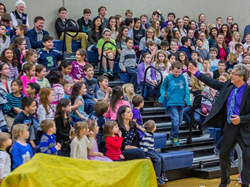 Golden Rule Magic can be used by teachers, principals, high school drama teachers, science teachers, students of magic, and magicians at any level of development as well as by those wishing to present the Golden Rule such as ministers and motivational speakers.
COUPEVILLE, Wash. (PRWEB) September 02, 2021
At GoldenRuleMagician.com, amateur magicians can now become pros in a few months time, science teachers can find chemical experiments for their classroom, and high school drama teachers can develop an assembly program of magic performed by their students that demonstrates the universal principle of The Golden Rule. "Do unto others as you would have others do unto you" is only one way of saying it. At the Golden Rule Project in Salt Lake City there is a collection of over 1000 ways to say the Golden Rule, 1000 expressions or formulations of this age old idea.
When an idea's time has come, the idea is somehow easier to understand than before, easier to grasp, more accessible without having to think too much. In this time of an over abundance of bullying combined with high suicide rates, the Golden Rule's time has come. This is where the magician enters the picture by doing a show all about the usefulness of the Golden Rule for everyday relationships. Due to the need in Public Schools, in the test area for this program, professional magician, Steffan Soule, performed his show, "Attention, Magic, and the Golden Rule," to over 150,000 students in schools from 2013 to March of 2020 (7 years) throughout the state of Utah. This activity was sponsored by GoldenRuleProject.org (mentioned above) which receives funding from the Val A. Browning Foundation and other philanthropic donors.
The seven year tour proved successful (2013 to 2020), and there is a measurable difference in the schools using the Golden Rule theme to reduce bullying. Because the program works and attracts funding by philanthropic organizations, the creator of the show is offering it to others so that others can get funding to present the effects of the Golden Rule through the tried and true, live, magic program.
In response to the fact that Steffan Soule, while performing magic professionally (since 1979), ran an efficient performing arts organization which successfully created jobs for actors, performed the largest and longest running magic show with a cast of nine on the West Coast in a theater custom-built for his show, "Mysterian," and single handedly shot the hours of video lessons for this new series during the pandemic, he now presents:
The "Golden Rule Magician," a series of how-to do-it-yourself magic effects that demonstrate the magic of the Golden Rule to audiences in any language. By studying magic, students of all ages learn how to demonstrate the universal principle of treating others with kindness for a reason, a principle known throughout the ages as "The Golden Rule."
The series is available at http://goldenrulemagician.com