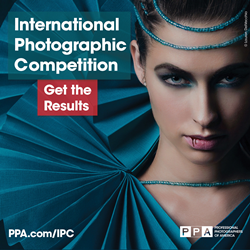 "Photographic competition…definitely pushes you and causes you to step back from your work and…appraise it from a different eye and see what you can do better,"
ATLANTA (PRWEB) August 26, 2019
Professional Photographers of America (PPA) has announced the results from its annual International Photographic Competition (IPC). A panel of 36 jurors from across the United States selected the top photographs from 5,245 total entries from August 18-23 at PPA Headquarters in Atlanta, Georgia. This year's judging of the IPC was streamed live online over the week.
This photographic competition challenges photographers to grow their artistic and technical skills by creatively capturing and presenting their best images, and by doing so, improving the marketability of their businesses. Judged against a standard of excellence, 2,654 images were selected for the General Collection and 625 (roughly 12% percent) were selected for the esteemed Loan Collection—the best of the best. The Loan Collection images will all be published in the much-anticipated "Loan Collection" book and selected General Collection images will be published in the "Showcase" book by Marathon Press.
Images accepted into the General and Loan Collections will also be on display at the Gaylord Opryland Convention Center in Nashville, Tennessee, Jan. 19-21, 2020, during Imaging USA, the annual convention and trade show for photographers. These images constitute one of the world's largest annual exhibits of professional photography gathered simultaneously under one roof. Also at Imaging USA 2020, the best of the best of the images will be announced at the esteemed Grand Imaging Awards.
Critiques from the IPC judges were available upon request, with more than 1,704 ordered this year. The critiques are offered as a way to help participants find areas of improvement and prepare for future photo competitions. Participants of the IPC who are members of PPA earn merits toward photographic degrees through entering the competition. 1,341 entrants this year were members of PPA.
"Photographic competition…definitely pushes you and causes you to step back from your work and…appraise it from a different eye and see what you can do better," explains Ben Shirk, M.Photog.M.Artist.Cr., 2018 Grand Imaging Award winner and member of Team USA for the World Photographic Cup. Shirk's path to those wins started with IPC. He says PPA's photographic competitions help you learn "what you bring to the table that maybe other photographers aren't doing so you can stand out even more in your everyday work too."
To view full results of the International Photographic Competition, visit PPA.com/IPC.