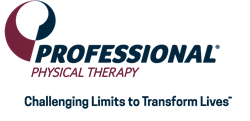 MELVILLE, N.Y. (PRWEB) January 24, 2023
Professional Physical Therapy, a leading provider of outpatient physical therapy and rehabilitation services throughout New York, New Jersey, Connecticut, Massachusetts, and New Hampshire, announces the opening of a second clinic in White Plains, NY under their strategic partnership program. This program provides a unique affiliation solution to clinicians and leaders who are vested in ownership and operations.
"Our new partnership program allows us to support great talent as we expand. It gave Clinic Director Antonios Kambouris, DPT, SFMA the opportunity to provide patients with better access to excellent care in White Plains, while growing his career and sharing in the business results," remarks Steve Schneider, CEO.
The new White Plains clinic is a state-of-the-art facility and is located at 222 Mamaroneck Avenue. Even more patients in Westchester will have greater access to the clinical expertise and cutting-edge therapeutics offered by Professional.
The clinic will be led by Clinical Director Partner, Antonios Kambouris, DPT, SFMA. Antonios is looking forward to doing everything that is beneficial to the health and recovery of his patients and adds, "White Plains is a diverse and welcoming community. It is an honor to be Clinical Director of the Professional Physical Therapy White Plains office and have the opportunity to connect with the community in a meaningful way through physical therapy. Changing someone's life for the better is the greatest reward of my profession."
Services available at Professional Physical Therapy in the White Plains clinic include:

Additionally, the White Plains clinic:

Accepts most major insurance plans, so you don't need to worry about your visits being covered.
Offers convenient hours, including early mornings and late evenings.
Does not require a physician referral or prescription to start treatment.
Schedules each initial evaluation quickly, sometime the same or next day.
Provides ongoing patient education on diagnosis, treatment plans and prescribed home-exercise programs.
Professional Physical Therapy currently operates widely across five of the Northeast states. For more information and a list of all Professional Physical Therapy locations and services, please visit http://www.professionalpt.com
About Professional Physical Therapy
Professional Physical Therapy was founded in 1999 and is an industry leader, providing private outpatient physical and hand therapy services throughout the Northeast. Our clinical team is comprised of multi-specialty Physical, Hand and Occupational Therapists who can treat a wide variety of orthopedic injuries and conditions with excellence. Today, Professional has grown to include over 190 facilities in New York, New Jersey, Connecticut, Massachusetts, and New Hampshire.