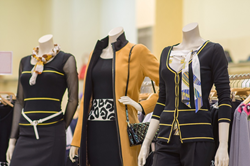 The intersection of content & commerce is transforming the digital experience for fashion & apparel retailers. Our work with the luxury brand is a testament of how integration of commerce technologies with interactive content can dominate fashion business
New York, NY (PRWEB) November 13, 2014
A global luxury lifestyle brand has launched its new e-commerce site with the help of the team at Professional Access, and the results are as high end as the retailer's fashion line. With more customers shopping online than ever before, the site was created to bring together the latest e-commerce best practices with the trademark glamour of the luxury brand, offering a unique blend of online shopping and the glitz of an online fashion magazine.
The new e-commerce platform serves as the core technology of the site, which also leverages the platform's powerful guided search capabilities to enable customers to view fashion photos in the photo-rich magazine format and immediately click through to desired items, add them to the shopping cart, and complete an online purchase. The customer-centric features of the new site have already improved conversion rate over 30 percent. The retailer that operates in countries across North America, Europe and Asia, has revealed earlier this year that the new site will play a significant role in its long term growth and expected to account for around 20 percent of the company's global revenue.
Professional Access designed the solution for the global lifestyle brand to introduce fashion and apparel-specific features that support the customers' desire to browse and shop the latest trends and looks on the site. Functionalities to shop by outfits and looks, and 'Must Haves' fashion recommendations for different product categories, have evolved the traditional guided-selling techniques into a single, visually-compelling online shopping experience. The solution is among the first to unify a retailer's commerce system with its content aggregator site to deliver fashion news and information in a magazine-like format to create a powerful marketing tool by encouraging higher customer engagement.
The solution implementation involved over 40 integrations with a variety of technologies. Extensions were made to the platform to support the fulfillment process, driving post-fulfillment settlement and reconciliation with the finance systems for both online and in-store orders fulfilled by the online warehouse. Settlements for returns and cancellations are also handled by the system.
"The intersection of content and commerce is transforming the digital experience for fashion & apparel retailers, especially luxury brands," said Ashu Chahal, chief operating officer, Professional Access. "Our role in such transformative initiative is a classic example of how commerce technologies can blend usability and interactive content to dominate fashion business."
About Professional Access
Professional Access (PA), a Zensar Technologies Company, is an Oracle Platinum Partner and industry leader specialized in Oracle Commerce implementations. PA has successfully led and delivered over 175 implementations for Fortune 2000 brands. PA's end-to-end offerings around commerce consulting, technology delivery and business operations are positioned as a one-stop-shop to meet diverse needs of clients in their commerce journey. With industry-specific solution frameworks and technology accelerators combined with the largest talent pool of Oracle Commerce experts, PA has uniquely enabled clients to maximize their ROI with faster time-to-market and competitive differentiation. For more information, visit our website at http://www.professionalaccess.com