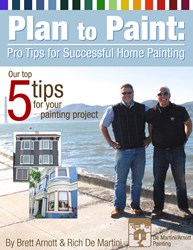 We hope to save homeowners time, money and stress on their next painting project.
San Francisco, CA (PRWEB) February 20, 2014
Over the past 40 years, painting contractors Rich De Martini and Brett Arnott have given new life to more than 19,000 homes and commercial buildings throughout the San Francisco Bay Area. The longtime owners of De Martini-Arnott Painting Company have synthesized their collective wisdom into a new e-book, Plan to Paint: Pro Tips for Successful Home Painting.
Available for free download on the company website, the e-book is designed to help homeowners and apartment dwellers select a reputable painting contractor and approach their painting projects with a solid understanding of what to expect before, during and after the job is finished. It offers tips on how to evaluate a professional painting company, what to look for in a painting estimate, and what steps to take to make sure the job is done right.
"We're really thrilled about this book. We worked hard to provide good information applicable to any home or building owner," said Rich De Martini. "We researched the topic and found that nobody had written anything quite like it. We wanted to be the first."
Having educated thousands of homeowners about the fine points of interior and exterior house painting, De Martini and Arnott believe that the information in the e-book will be valuable for anyone considering a painting project, regardless of where they live. "We hope that taking 10 minutes to read through the book will save people time, money and the hassle of a painting do-over," says De Martini.
De Martini-Arnott Painting Company employs eight crews of experienced painters working year-round on every type of Bay Area home from the Painted Ladies of Alamo Square to penthouse apartments on Nob Hill to Sausalito house boats. They have transformed high profile buildings like the Yerba Buena Center of the Arts and the St. Francis Yacht Club, but the bulk of their work has been house painting in almost every neighborhood throughout San Francisco, San Mateo and the Peninsula.
The "Plan to Paint: Pro Tips for Successful Home Painting" e-book is available for free at the De Martini-Arnott Painting Company website.