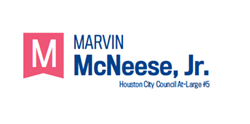 I've been inspired and excited by politics my whole life; I dedicated my career to educating people about our government, and now I feel prepared to serve the citizens of Houston as a City Council Member.
HOUSTON, TEXAS (PRWEB) May 28, 2019
Today, Professor Marvin McNeese Jr. announced his candidacy for Houston City Council At-Large Position 5. As a City Council Member, McNeese will work to restore faith in Houston's City Hall directly by pushing to use all, not just some, of the ReBuild Houston funds on drainage projects and finding money in the budget to hire more police officers. McNeese will also press the city to keep first things first by staying focused on public safety, road maintenance, clean water and waste removal. Through his influence and collaboration with other civic leaders and citizens, McNeese intends to improve drainage, grow the local economy, improve education for our youth, decrease crime, and create equity for all Houstonians.
McNeese, who has a doctorate in political science and has been a professor of political science for 15 years, is now ready to put his knowledge into action for the citizens of Houston. A known problem solver who seeks efficiency when developing solutions, McNeese is eager to create a path towards progress for the City of Houston.
"I've been inspired and excited by politics my whole life; I dedicated my career to educating people about our government, and now I feel prepared to serve the citizens of Houston as a City Council Member," said McNeese. "As an active volunteer at my church and in many local organizations I understand what our citizens need and desire from the City of Houston. This connection to the community, my deep knowledge of how the system works, and the ability to develop new solutions to ongoing issues provides me with a unique skill set that I believe will benefit Houstonians."
McNeese not only understands how the city works, he has created a pragmatic vision to step-by-step resolve issues that affect Houstonians.
"Over the course of the campaign, I look forward to sharing my ideas to improve drainage in all areas of the city and create efficiencies within our government to provide the resources we need to keep citizens safe and improve their quality of life. Together we can do better," said McNeese.
Testimonials of Support
"Dr. McNeese is bright and engaging and offers unparalleled expertise of the political system," said Dr. Joe Parle, Provost of the College of Biblical Studies-Houston. "As his colleague, I am impressed with his ability to take a large issue and break it down into manageable pieces to then come up with a solution or a cause. Dr. McNeese would serve the Houston community well on City Council."
"We've known Marvin's family for years and have enjoyed watching him serve at Houston's First Baptist Church," said Richard and Andrea Kim, long-time members of Houston's First Baptist Church, and Partner at Stanton Chase, and former Chairman of the Board of The Source for Women, respectively. "His passion for people and his faith are second to none. We proudly support Marvin in his run for Houston City Council At-Large Position #5."
"I have known Marvin during his time as a volunteer coach for youth flag football teams for both of his sons. During his time, he decided to coach his son's teams without hesitation. With patience and the ability to demonstrate strategy clearly, he drew out the best from his teams, in turn the kids looked up to him as a role model, and their parents were grateful," said Adam Spiegel, Senior Program Director of YMCA Houston. "I know Marvin to be passionate, dependable, honest, committed, hardworking and organized. He puts all of his effort in when it comes to coaching children. Marvin has an excellent rapport with people of all ages. Marvin is an asset and I support him as he has supported our community."
"I have never met anyone more passionate or gifted at engaging in politics who is also selflessly motivated to solve real world problems the right way," said Chris Lampson, former student of McNeese's at the College of Biblical Studies-Houston. "Dr. McNeese has demonstrated genuine concern for his community, the political savvy to successfully navigate the challenges of government, and the integrity to transcend a polarized and corrupt political system without compromise and make a positive impact. His commitment to uphold God's purposes for the institution of government and his respect for the people whom he serves makes him the right person for this position."
About Professor Marvin McNeese Jr.
Marvin McNeese Jr. is currently the Chair for the General Education Department at College of Biblical Studies in Houston where he has taught political science for more than 15 years and has served as a grant writer in the Development Department. His training in political science and economics began at Albion College in Michigan and continued at the LBJ School of Public Affairs at the University of Texas at Austin. At the same time, he enrolled in the Teresa Lorenzo Long Institute of Latin American Studies because he wanted to understand Hispanic Americans and what life is like in their countries of heritage. After earning two master's degrees, he took a two-year assignment with Avant Ministries in Panama, as well as numerous other residencies and trips in six other Latin American countries. He earned his Ph.D. in Political Science from Rice University in 2015.
Most of McNeese's career has been spent in higher education, though he has helped several churches to develop and raise funds for their social service and charitable activities. McNeese is also a Deacon at Houston's First Baptist Church where he, his wife and four children have been members since 1993.
McNeese also volunteers at the Texans and Trotter YMCAs, University Village Civic Club, Third Ward Complete Community, and the Emancipation Economic Development Council. He is a regular donor with the Gulf Coast Regional Blood Center.
Connect with McNeese at http://www.marvinmcneese.com.
Political Advertisement paid for by Citizens for Marvin McNeese Jr.