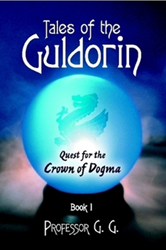 G. G. relates, "No matter what nationality you are, there are others just like you who are of a good nature and wish to enjoy life without the possibility of being hurt or killed."
Kingsville, Texas (PRWEB) January 22, 2015
A fantasy adventure, "Tales of the Guldorin: Book I: Quest for the Crown of Dogma" (published by Lulu), from Professor G. G., details the adventure of an 18-year-old boy and three new non-human companions seeking to fulfill an ancient prophecy.
Tav has just turned 18 and desires more out of life than the back-crushing labor of farming. With his entire life's savings, he leaves the farm and heads off to seek his fortune, but he is soon sidetracked when he meets and befriends three non-humans: a Steinshun spirituist, a Huthundorian archer and a mountain warrior. The four new friends accept a quest given to them by an unusual creature – a quest that could cost any one of them their lives.
"The story is about relationships between people who are different yet not so different from each other," G. G. says. "It is also about friendship and the ability to face situations with one another and with others."
An excerpt from "Tales of the Guldorin":
"Gislan walked to the edge of the water, got down on one knee, pulled out his sword, and pointed it toward Tav. 'Ku-Dan-Uul, my brother. I swear by the Great Dushun that I will never leave your side in battle and in life.' He sheathed his sword, stood, and turned to the others with determination in his eyes. 'He will survive.' He turned and walked away."
G. G. relates, "No matter what nationality you are, there are others just like you who are of a good nature and wish to enjoy life without the possibility of being hurt or killed."
"Tales of the Guldorin"
By Professor G. G.
Hardcover | 6 x 9 in | 138 pages | ISBN 9781483400549
Softcover | 6 x 9 in | 138 pages | ISBN 9781483400525
E-Book | 138 pages | ISBN 9781483400532
About the Author
Professor G. G. has taught science and sports and has served his community for many years. He has also been a welder for an international tank company, a carpenter's helper, an oilfield hand, a construction worker, a furniture-manufacturing worker and an official for basketball, football and softball games. He currently lives in Texas. This is the first book in a planned series.