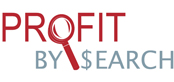 The update ensures that 'white hat' Search Engine Optimization will be awarded for their hard work while webspammers will be punished accordingly.
New Jersey (PRWEB) October 23, 2013
Search Engine Optimization (SEO) is not an easy deal, as soon as there is an update in Google's Search Analysis Algorithm, SEOs all around the world can easily be seen looking for a way to protect their websites from getting blacklisted on Google's Search Result.
Profit By Search, India's No.1 White Hat SEO Company, has been keeping a close eye on Google updates over the years and the company has been putting in its best efforts to protect its client's rankings after the update and it is due to their hard work that ranking of their client websites are not effected even after countless algorithm updates from Google.
Late last week, Profit By Search organized a meeting to discuss methods to improve and retain ranking of websites after Google's latest update – Penguin 2.1. The new search analysis update has been named Penguin 2.1 and it is an extension to Penguin. This algorithm is aimed at providing better results to user queries making it even more difficult for people who spam its search results or purposely violate Google publisher guidelines to have a better rank on Google search results.
"In the latest update, Google has made it difficult for webspammers to secure rankings for their websites. Backlinks are totally ignored and the websites which are dependent on white hat SEO techniques are benefitting from this update." said Abhinav Girdhar, CEO at Profit By Search.
"We have observed that geo-location or redirecting users based on their location is not considered spam in this latest update and Google Search Engine will not consider a site that uses geo-location techniques as spam. Our observation was confirmed by Matt Cutts, head search spam at Google, who clarified about this subject last week," he further added.
Ranking of many websites were affected badly after the recent update from Google and some low ranking websites were doing better. Those who acted timely were back on the rankings and those who didn't work smartly have suffered the most from this update.
The update ensures that 'white hat' Search Engine Optimization will be awarded for their hard work while webspammers will be punished accordingly. If a website has been affected by this recent update and the webmaster is looking for a solution, consult White Hat SEO company in India - Profit By Search to take this update for benefit.
About Profit By Search:
Profit By Search, India's #1 SEO Company is the search arm of ONS Interactive Solutions Pvt Ltd and is India's #1 SEO & PPC Company. Profit By Search specializes in ensuring that small & medium businesses gets prominently displayed in search results of leading search engines like Google, Yahoo!, Bing and more, to help small & medium enterprises connect with customers searching for what they offer on their website.
For more information about their SEO & PPC services, please visit http://www.profitbysearch.com or call Alok Kumar at (888) 322-7617.