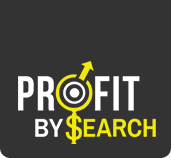 New York, NY (PRWEB) February 11, 2015
Maintaining their prominent position as one of the leading SEO Companies in India, Profit By Search now offers PPC Management services. PPC or Pay per Click is basically a business model in which a company places advertisements on the host website, and pays a sum of money to host whenever the advertisement is clicked by the user. With their team of skilled and experienced professionals, the company aims at delivering online advertising of real value to the customers. Through their PPC management services, the company provides assistance in enhancing the sales and traffic of the clients' website.
India's #1 SEO Company, Profit By Search is one of the leading digital marketing companies in India that is well-recognized for serving its customers with effective SEO services in India. The Search Engine Optimization services that the company provides to its clients, helps them in enhancing the visibility of their business website on the search engine results. Availing their SEO services can assist clients in enhancing their business and increasing the ROI of the business.
Talking more about their PPC Management Services, one of the spokespersons from the company stated, "You can now use the cutting-edge technique of the digital world by hiring Pay Per Click services from Profit By Search. It is a 360 degree online agency for marketing. Being India's first Microsoft Adcentre and AdWords Certified Partner, we believe in delivering online advertising of real value to customer. We serve by advertising messaging services so that our clients reach their targeted audience in an effective manner. This further leads to increase in sales and traffic of the website."
About Profit By Search
One of the premier providers of SEO Services India, Profit By Search not only serves the purpose of increasing a client's website visibility on major search engines, but it also helps solve various technical problems of a website like providing a client with unique content to keep the website away from getting slapped by the Google Panda, improvise on methods to improve lost rankings, helps fight better with the bounce rates, maximize the rate of return on investment for advertising budget and many other such services.
For more details, please visit https://www.profitbysearch.com