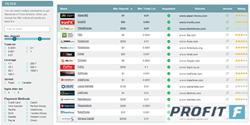 "A powerful yet easy to use search function, combined with reviews from other traders and a vast repository on trading, we aim to make ProfitF.com a trader's partner in their journey to success"
Minsk, Mi (PRWEB) April 22, 2014
ProfitF.com is a new forex and binary options trading website targeted to traders who want to learn how to trade forex and options. By providing educational resources that caters to both complete beginners as well as novices, ProfitF.com is poised to become a trader's website of choice.
ProfitF.com boasts of not just reviews of Forex Brokers and Binary Options brokers but also a fully functional search option making it easier for traders to pick and choose a broker of their choice. Because every trader is unique, ProfitF.com's revolutionary search function allows traders to choose from a variety of criteria; starting from the most basic lot size to deposit methods and leverage.
The Trading Software section is targeted towards forex EA users and features an ever growing list of forex expert advisors with detailed reviews and offers exclusive ProfitF.com discounts on the expert advisors that are not available elsewhere.
"As forex trading continues to become more crowded, we noticed a growing need for traders that wish to cut the chase and learn about brokers for what they were. Based on this basic need, ProfitF.com website was set up in order to present traders with just the facts minus the marketing gimmicks."
He goes on to state that "ProfitF.com is a unique portal that is sure to stand out from the crowd. From the very beginning we have focused on quality instead of compromise on quality. This is reflected in not just the educational resources for trading, but also the brokers (both forex and binary options) that we feature are reviewed in detail to make it easy for traders to make a choice in regards to selecting the broker they want to trade with. We try to make it as transparent as possible, so other traders can also leave their feedback about the broker to help other traders make a better informed decision."
To learn more about ProfitF, visit http://www.profitF.com
About ProfitF.com
ProfitF.com is a leading finance and trading website that caters to forex and binary options traders. ProfitF.com readers not only learn how to trade better but also learn about trading conditions of various binary options and forex brokers. Our mission is to make our readers more knowledgeable and confident when it comes to online trading.