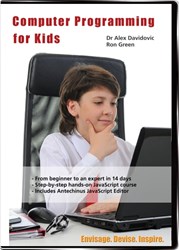 JavaScript may well be the ideal language to learn programming.
(PRWEB) December 11, 2013
For the first time, children as young as 12 are able to grasp the programming concepts, and in just two weeks, with the carefully crafted "Computer Programming for Kids" DVD course that uses JavaScript Editor, the integrated development environment (IDE) developed by C Point, to teach the material previously reserved only for adults.
Using computers and mobile devices is second nature to the new generations of children. For this reason, knowing how to program is a great skill to have in today's computing age, regardless of what the child may elect to do later in life. However, the programming editors are becoming increasingly complex and comprising more and more technologies, making them unsuitable as the learning tools and next-to-impossible for youngsters to use them.
Up until now JavaScript Editor was not an exception - this state-of-the-art tool was typically used by website developers, programmers and enthusiasts, not children. However, the Antechinus Editor has one unique feature that you do not find in other tools of the similar class, namely the ability to instantly run the selected piece of code directly in the IDE, with a single click, including the programming examples that you copy-and-paste. By knowing just how to syntax-check and run the code, students are able to make rapid progress in learning the programming concepts.
JavaScript is an incredibly popular language, used to power or spice up web pages everywhere, supported by all web browsers without exceptions, and can power stand-alone applications as well. Yet, being an interpreted language it does not require a compiler, unlike C, C++, C#, or Java. Unlike PHP or Python, it does not need a web server to run.
"JavaScript may well be the ideal language to learn programming," says Dr Alex Davidovic, the head of the programming team behind JavaScript Editor. "When they can simply copy and run the examples, students focus on learning the programming concepts, without distractions or wasting time to get familiar with the tools."
JavaScript Editor was tested with the class of 12-year-old children, but the built-in JavaScript tutorial, while truly effective with adults, was still too hard for the youngsters to follow. The company turned to Ron Green, renowned educator and programmer, for help, which made all the difference. Ron came up with the "Learning Programming through JavaScript" course, which is supplied on the Computer Programming for Kids DVD together with JavaScript Editor. It is designed with exercises and solutions at the end of every chapter, specifically for the classroom situations, or the parent-child learning.
"On the very first day that they used the new course, we were already noticing the big difference in students' understanding and the rate of learning," says Dr Alex. "Short of plugging into the system as in The Matrix movie, it is hard to envisage a simpler, faster, or more direct way to learn programming."
The C Point team is confident that students can now master programming when they are as young as 12 and at the pace not seen before, in just two weeks. The next step? It is to bring the age barrier down even further by testing Computer Programming for Kids with 10 and 11-year olds.
Meanwhile, the company is not forgetting its adult users. The new upgrade, version 11 of Antechinus JavaScript Editor, has been released on Wednesday, 11th of December 2013. The new feature is the support for C# and .NET, allowing users to create, edit, compile and run C# applications and libraries from the JavaScript IDE. While there is no denying that it too adds to the ever-growing complexity of the programming tools, it is a welcome upgrade, making the Editor an appealing tool for the quick and straightforward generation of small to medium .NET projects.
About C Point
C Point Pty Ltd owns and operates JavaScriptDeveloper.com, the home of Antechinus JavaScript Editor, and the PurposeAndDirection.com parenting community, with the Computer Programming for Kids course, Dinosaurs Encylopedia software and other educational resources.