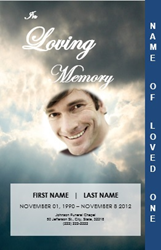 It's easy and affordable to create a lasting keepsake program for your loved one's funeral or memorial service. Simply choose, purchase, download, edit and print.
Jacksonville, Florida (PRWEB) August 02, 2015
In the whirlwind of "to-do's" surrounding a loved one's funeral or memorial service, grieving families often go for the quickest, easiest choice, regardless of cost. They usually look to the funeral home to create the funeral service programs, but funeral homes usually carry few design options. FuneralPamphlets.com offers a convenient, less costly alternative that gives consumers more control over creating and printing funeral programs for their funeral or memorial service. They can go to FuneralPamphlets.com and choose from a variety of downloadable, easy-to-edit (in Microsoft Word®) printable funeral card templates, thus making a truly special, meaningful memorial card while saving money.
Said Goran Karic, owner: "The idea for FuneralPamphlets.com came to me at a great-uncle's funeral. I felt the generic funeral program template simply did not fit his personality. I thought to myself, 'what if we offered a broader selection of designs for funeral program templates online and helped people create their own funeral programs at home?' Our goal in creating FuneralPamphlets.com is to provide the consumer everything they need to order and create a funeral service program that truly reflects their loved one's personality, interests and values. We also service the funeral home industry, offering them more design selections to offer their customers."
FuneralPamphlets.com is a one-stop-shop for anyone looking to find the perfect downloadable obituary template to customize and print at home – or at a local print shop.
The process is simple:
1. Select template
2. Check out by PayPal
3. Download, edit and print
The site offers easy-to-follow instructions and FAQ to guide the consumer through each step.
Printable templates range from simple letter single fold to graduated step, from collage trifold to gatefold. Consumers (and funeral homes) also can choose from a wide selection of themes to match their loved one's personality, interests and values:
Outdoor theme
Floral theme
Baby/Youth theme
Spiritual theme
Waterscape theme
Traditional theme
Hobby theme
Other theme
The lovely and eclectic selection of funeral program templates may be viewed at their store.
There is even a resources section with popular funeral prayers and poems.
Said Karic: "We understand it is devastating to lose a loved one. We want to empower our customers to create a lasting keepsake program worthy of their loved one. Our process is designed to be simple, but in case technical questions arise (and they do), we are here to help resolve them."
A new, fully responsive FuneralPamphlets.com site is in the works and will be launched within the next two months, according to Karic.
About FuneralPamphlets.com
FuneralPamphlets.com offers beautiful funeral service programs for instant download at a low price. Each one pf the funeral memorial program templates is made with a unique design consisting of high-quality color-coordinated covers and inside pages. Obituary program templates are made easy-to-edit through Microsoft Word®. Upon purchase, customers will receive their funeral service program template instantly via email for download..The template may then easily be edited/customized and printed.