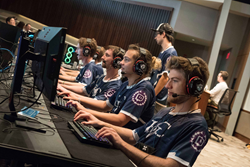 "As collegiate eSports continue to grow in popularity and adoption, programs require regimented, purpose-built learning programs to become, and stay competitive," said Sam Wang, CEO of ProGuides
LOS ANGELES (PRWEB) May 14, 2019
ProGuides, an eSports learning platform where committed gamers get better, today announced a partnership with Lebanon Valley College's (LVC) dedicated eSports program, the first varsity program in Pennsylvania, to install a curriculum-based training program for its 50+ student athletes. The partnership reflects a major commitment by LVC to not only ensure a competitive advantage of their dedicated teams, but also to provide athletes with formal progression plans modeled after structured and validated online learning methods. With ProGuides, LVC is training with intention.
"As collegiate eSports continue to grow in popularity and adoption, programs require regimented, purpose-built learning programs to become, and stay competitive," said Sam Wang, CEO of ProGuides. "By following the ProGuides curriculum, LVC athletes avoid endless replays of the similar game environments, and instead focus on the specific skills they need to win."
According to a January 2019 report from Wired Magazine, nearly 200 US colleges currently offer around $15 million per year in eSports scholarships and university teams can earn millions more in tournament prizes. As reference to eSports popularity, 51% of college students consider eSports a viable career option, a recent eSports championship hosted more viewers than the Superbowl, and the global competitive industry is expected to reach $1.5 billion in yearly revenue by 2020.
To meet the blistering demand, colleges all around the country have launched programs, allocated millions towards dedicated eSports arenas, hired full-time coaches and have rostered competitive teams. Unlike traditional sports with endless training resources readily available, eSports programs simply do not have trusted material to instruct, refine and improve competitive teams.
"Lebanon Valley College is dedicated to fielding competitive teams across various games, including two news squads being added this fall," said David Shapiro, Chief Information Officer and eSports Director of Operations at Lebanon Valley College. "To ensure our athletes compete at the highest level, we knew we had to invest in a proper training program. ProGuides provides the custom curriculum we need to elevate the team's skills and stay ahead of new playing styles."
The partnership will provide unlimited access to over 204 courses across four different games. Courses contains up to nine chapters, each with up to 10 lessons. As teams progress, game mechanics evolve and new patches are implemented, additional course material will be released. LVC hosts a shared eSports arena for its nine teams and plans to expand into team-dedicated spaces later this year. The program has a full support team including a head coach and three assistant coaches. The LVC Hearthstone team recently defeated the top-ranked Northeastern University, handing them their first loss in collegiate play. The LVC Rocket League, Overwatch and Hearthstone teams all host 2019 national rankings and represent the sport's most competitive games.
eSports has made a major contribution not only to student life, but also to the academic makeup of its community. The College actively recruits top student-athletes with more than 450 inquiries from prospective students nationwide for fall 2019 and recently announced a new eSports scholarship, worth $10,000 over four years. ProGuides is equally committed to providing colleges and universities with the training they need to be successful.
# # #
About ProGuides:
ProGuides is an eSports learning platform where committed gamers get better. With access to hundreds of hours of free, lesson-based curriculum custom designed by professional gamers, 250,000+ players count on ProGuides to advance their strategy, skills and ranking within the world's most competitive games. For players looking to elevate their development further, or even compete for the $15 million available in yearly scholarships from 200+ universities, paid subscriptions offer individualized coaching. Hosting 25 employees at their Los Angeles headquarters, ProGuides currently supports four major titles, has plan to launch an additional six before 2020 and will be applying it's $1.9M in pre-seed funding to greatly accelerate the platform's development. For more information, visit: http://www.proguides.com
About Lebanon Valley College:
Lebanon Valley College offers bachelor's degrees in the arts and humanities, business and communications, education, health professions, social sciences and psychology, and science, technology, engineering, and math. Advanced health professions degrees include a master of athletic training, a master of speech-language pathology, and a doctor of physical therapy. Online and graduate programs include an MBA with four concentrations and a general option offered on-campus or partially or fully online, a Master of Science in STEM Education, an Integrative STEM Education Certificate, a Master in Music Education, and a Modern Band Certificate. In 2018, the College was listed as #1 in the country for graduate job placement by the career guidance site Zippia.com, using federal data. The 357-acre campus is in Annville, Pa.