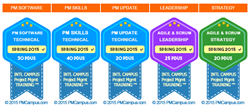 In a PMCampus.com 2015 survey of their continuing education students, more than 80% of respondents confirmed their interest and intend to share digital badges on their social media accounts and other web profiles.
Newark, DE (PRWEB) May 11, 2015
PMCampus.com pursues the goal of developing online programs that increase access to project management education by providing high quality online courses matching the specific needs of Project Management Professionals (PMP®). PMCampus.com' programs offer a variety of courses granting Professional Development Unit (PDU) pre-approved by the Project Management Institute (PMI®) which enable PMP certified practitioners to better meet the challenges of a rapidly changing and highly competitive global economy.
In addition to granting PMI's PDU credit certificates, PMCampus.com is innovating with the design and delivery of a new set of proprietary digital badges that will provide students with more opportunities for sharing and demonstrating their continuing education achievements.
In a PMCampus.com 2015 survey of their continuing education students, more than 80% of respondents confirmed their interest in new digital badges as recognition of their continuing education efforts. Many students intend to share their digital badge on their social media accounts and other web profiles. To see the new badges and results of PMCampus.com 2015 survey, visit PMCampus news web page .
The design of the badge was originally drafted by the founder of PMCampus.com and e-learning expert, Kahina Morisset and was further honed based on input from students and faculty. It is modern-looking with a set of metadata that display the quantity of PDU obtained and the term completed. In addition, the color scheme and special mention of the type of skill earned are aligned with the PMI talent triangle.
By providing new digital badges from its own initiative, PMCampus.com continues its tradition of offering original and innovative online training solutions that promote the strength and engagement of the global project management community.
PMCampus.com is currently offering 4 subject matter areas for PMP® Re-certification program for which students will be able to earn a new digital badges in addition to their certificate upon course completion.
Subject Area #1 - Project Management Advanced Skills
Subject Area #2 - Agile & Scrum Leadership and Strategy
Subject Area #3 - Project Management Software
Subject Area #4 – Project Management Update
For many individuals of the active project management workforce, online programs are becoming the first choice for professional and continuing education needs. Project management professionals find these programs to be convenient because they are available any time and are accessible from anywhere. In addition, PDU courses deliver high value through reduced tuition and travel cost savings. The new digital badges delivered by the PMCampus.com will give special recognition to students who made the effort to acquire new skills or enhance existing skills through completion of continuing education courses.
About PMCampus.com
PMCampus.com is a project management training organization specialized in online training approved as PMI global Registered Education Provider (R.E.P) since 2005.
PMCampus has enrolled more than 20,000 students around the globe and delivered more than 300,000 training hours, granting PDU credits certificates.
The company has a base in Newark, Delaware with operations in Vancouver, Canada. PMCampus.com was founded by Kahina Morisset, Ms. Eng., MBA, PMP - a Canadian French-born learning and training consultant expert. She has teamed up with a network of project management experts and lifelong learning champions to develop the "International Campus for Project Management Training" who altogether contribute to the ongoing development of superior training and affordable e-learning experiences for the PMP® community - globally.
For more information, please visit http://www.pmcampus.com.