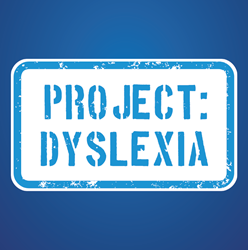 Dyslexia is a specialty area that most educators have not received current training to meet the needs of dyslexic learners.
New Lenox, IL (PRWEB) May 03, 2016
Children with dyslexia are not lazy or unintelligent, but need early intervention and the proper tools to succeed in school. Local nonprofit Project: Dyslexia aims to help these children as early as possible. The group is holding a fundraiser on Friday, May 13, to further these efforts.
Dyslexia is a neurological learning disorder found in one out of five people. The brain processes language differently and can hinder reading, writing and sometimes speaking. Researchers at the University of California-Davis, and Yale University have discovered that identifying children with dyslexia as early as first grade could narrow the achievement gap with unaffected readers.
Project: Dyslexia works to debunk misconceptions about this disorder and draw more attention to help children get intensive multisensory intervention such as Orton-Gillingham and Wilson Reading System, both of which break down language and teach decoding based on syllable types and spelling rules. Often times children struggle and are marginalized by the traditional educational system. Given the proper attention, dyslexic children can be as successful as every other student in class.
"As parents, we assume that teachers, reading specialists and special education teachers are trained to identify dyslexia in children struggling with reading and spelling," said Ann Marie Rafecz, co-founder of Project: Dyslexia. "However, dyslexia is a specialty area that most educators have not received current training to meet the needs of dyslexic learners. Project: Dyslexia was founded to help close this educational gap while helping off-set the costs put on parents for intervention."
Project: Dyslexia is holding a cosmic bowling fundraiser on Friday, May 13, 7 p.m., at Laraway Lanes in New Lenox, to aid its cause. Tickets are $15 each and include three rounds of bowling, bowling shoes, pizza, and pop. There will be raffles and a cash bar. Donations have been made by Lou Malnati's (New Lenox), Embroid Me (New Lenox), EZ-Sign (Mokena) in addition to many businesses throughout the area. Raffle items include a 2015-16 Blackhawks team signed stick and two tickets to a 2016-17 Blackhawks game. For more details, visit http://project-dyslexia.eventbrite.com.
About Project: Dyslexia
Project: Dyslexia is a nonprofit founded by Ann Marie Rafecz and Lynn Dohm to debunk misconceptions about dyslexia and draw attention to this learning disorder while helping children acquire the early intervention and services they require to overcome associated challenges. The nonprofit also aims to offset the costs of early screening for dyslexia. For more information on meetings, donations and more, email rafaczam21(at)gmail(dot)com.