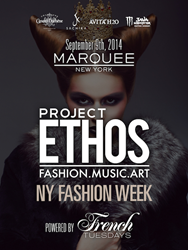 New York, NY (PRWEB) September 09, 2014
Java Monster is proud to partner with Project Ethos and sponsor their debut New York Fashion Week event at Marquee New York located at 289 10th Ave. on September 9 at 8 pm. Hosted by television personality Sharon Carpenter, the evening will consist of a fashion show, live music performance, an art exhibition presenting rising talent from New York and across the U.S., and a Java lounge for guests to recharge and hang out at this exclusive event.
Guests can enjoy their favorite Java Monster drink. Featured drinks include: Mean Bean, Loca Moca, and Vanilla Light.
Project Ethos one night fashion, music and art event will feature an exciting roster of designers and talent hosted at the Marquee. The 8:30pm and 9:30pm fashion shows will feature New York natives SACHIKA presented by Avita Premium Artesian Water, The Ashley Michaelsen Collection, Project Runway Alums Richard Hallmarq and Jesus & Antonio Estrada, Wood Underwear, Aleena Khan and Liberty Garden whose line supports Doctors without Borders. A musical performance will take place at 9pm. Past music performances at Project Ethos include Grammy Award winning Bruno Mars, Colbie Caillat, and One Republic before they rose to stardom.
Live art will also be featured throughout the night by Tripp Derrick Barnes of Pop Neoism and Royce Bannon. Vendors including Shop Ethos, Jimmie Joy Jewels and Speck featuring Candywirez.
DJ Alex Ortega will kick off the after party at 10pm with a digital art display by Joshua Kogan Photography. For non-industry guests, pre-sale tickets are available for purchase at: http://www.eventbrite.com/e/project-ethos-ny-fashion-week-powered-by-french-tuesdays-tickets-12625979645.
This is a 21+, cocktail attire event (jackets for men).
Java Monster will post content throughout the event. For on-site Java Monster media inquiries and images please contact Kim Dresser at (949) 300-5546 or kim.dresser@indiepragency.com. Complete information on the designers, program schedule and sponsors can be found at the official website at Project Ethos.
###
About Java Monster
Based in Corona, California, Java Monster is coffee done the Monster way. Java Monster's premium coffee and cream offers the perfect mix of ingredients. Brewed with killer flavor and supercharged with the Monster Energy blend, Java Monster gives you half the caffeine of regular coffee and twice the buzz. Java Monster Personalities include Mean Bean, Loca Moca, Kona Blend, Vanilla Light, Irish Blend and Cappuccino; all created to satisfy whatever mood suits your lifestyle. See more about Monster Energy Company including all of its drinks at http://www.monsterenergy.com.
About Project Ethos
Since 2005, Project Ethos has consisted of a fashion show, music performance, and art gallery in one venue on one night. With over 1,500 fashion designers, musicians and artists featured, Project Ethos has held large-scale productions in Los Angeles, San Diego, San Francisco, Portland, Las Vegas Scottsdale, and Chicago, with New York and Miami launching in the Fall of 2014. Past designers have been featured on Project Runway, sold in retail stores and featured in prominent publications. Previous music acts have won Grammys and played the Super Bowl. Hundreds of original art pieces have been sold.