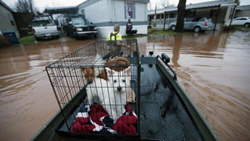 The people of Louisiana have been all but forgotten and if we can make even one child feel safer we have succeeded.
Reno, NV (PRWEB) September 23, 2016
On August 12 the state of Louisiana suffered historic flooding, killing a dozen people, destroying thousands of homes, and leaving families homeless. While their most basic needs are being taken care of by other organizations, it's their comfort and quality of life that are often neglected. Charity Music Tours and Project Bear Hugs invite the entire community to help by donating needed items.
Project Bear Hugs, founded by teen philanthropist Hannah Hoobyar, is working to collect needed, and often forgotten, items to help children and families begin to rebuild their lives. Particularly needed items include new or gently used stuffed animals, bedding, pillows and pillowcases, pet food, diapers and personal hygiene items.
With more than 40,000 people rescued from the flood, more than 2,000 animals rescued, more than 110,000 homes damaged and thousands still in shelters, recovery from flooding is expected to last years.
Project Bear Hugs will be accepting donations at Peterbilt Truck Parts & Equipment located at 2272 Larkin Circle in Sparks, Silver State International located at 2255 Larkin Circle in Sparks, SURVE Dance Complex located at 542 Greenbrae Drive in Sparks and Caliber Hair and Makeup Studio located at 141 E Pueblo Street in Reno from now until October 5. The organization will then load a truck donated by Idealease and fueled by Flyers Energy, and set off to deliver the items to families. Donations can also be shipped to Hannah Hoobyar at 59 Damonte Ranch Pkwy, Ste B269, Reno, NV 89521.
About Project Bear Hugs (PBH):
PBH is an arm of Charity Music Tours, a non profit organization, that works to provide free, comforting stuffed animals, blankets and more to families across the country who are in need. They rely on donations to fulfill their mission of no child or family going to sleep afraid. For more information, visit http://projectbearhugscares.com.
About Charity Music Tours (CMT):
CMT organizes charity concerts for victims of disasters to provide uplifting community spirit and to draw much needed awareness and funds to provide relief to those who have lost everything. For more information, visit http://charitymusictours.com