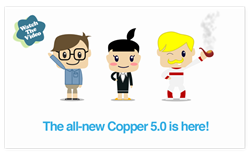 "Version 5 of Copper has changed everything for us. It's streamlined and quick. We can get projects running without tons of "project management" time, we're loving it." - Chris @ amgtv.com
San Francisco, CA (PRWEB) September 17, 2013
Copper Project has released the much anticipated fifth version of its award winning project management and collaboration software. And it's a corker!
The Australian/US based company has been operating since 2002, developing and refining its project management solutions in collaboration with thousands of organizations including Apple, Mercedes Benz, Sony Pictures, Herman Miller, and eBay.
The new version 5 is a slimmer, more "applesque" solution, with groundbreaking new features that result in both a reduction of clutter and a natural increase in the speed and efficiency to which customers can complete their projects.
The product includes groundbreaking new features set to revolutionise how businesses manage their project portfolios, with a clever interactive project timeline view, Pin&Pass task workflow, quick and easy project creation and collaboration, and tight integration with Xero and other billing solutions.
With many "why didn't I think of that?" features, CEO Ben Prendergast says the product and company is set to take the next step in its evolution, with a number of high profile organizations already adopting the new solution, "We've been servicing and refining our solution for over a decade, a rare tenure in a crowded market, however this is the first time we've set out to pleasantly surprise our customers in the same way Steve Jobs and Apple have done in the past. It's all about finding that magically crafted recipe in a business solution that just gets it right. We know our current customers already love the new product, and so we're bullish about new customers coming on board, and we're only just getting started with integrations with other products like Xero."
The new integrations with Google Docs, Xero, and Freshbooks mean that customers can manage their pitching process, set up their project plans, collaborate and manage their time with stopwatches and automatic timesheets, then seamlessly manage the billing process. "Over time our customers actually increase their efficiencies and therefore profits with each new project, which is good for them, and good for us as most of customers naturally become long term partners," said the Melbourne-based CEO.
The new version is available now from $49/mth, as a cloud-based subscription or in a bespoke consultative solution for larger corporations.
For more information, see http://www.copperproject.com.
###