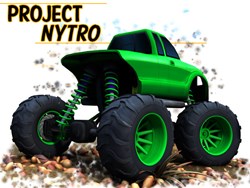 This is going to be a retro racin' good time!
Fort Lauderdale, Fl (PRWEB) November 21, 2013
Project Nytro is an all new, yet old-skool racing game featuring 2d style racing similar to those found on gaming consoles of the late 80's and early 90's. Games like, Super Off Road, RC Pro Am, Rock N' Roll Racing and Mario Kart have inspired us and we're combining the best elements from every game to make an entirely new experience. The goal is to make an exciting, addictive racing experience that will have countless hours of gameplay. Right now, Project Nytro is a spiritual successor to Super Off Road but using this concept as a base the game will certainly have changes and be molded into an identity all its own. Project Nytro has a projected release date of October 2014 with contingencies upon success of the recently launched Project Nytro Kickstarter campaign.
The first goal of Project Nytro is to gather a community of gamers that are fans of the racing genre and work together with various discussion to create what Project Nytro will become. The idea and general perspective of the game will be driven by Reel Ten and without straying too far from the original concept everyone involved can say they had a part in shaping Project Nytro. There's a lot of work to be done, countless conversations to be had and lots of angles to be explored. The ultimate result of Project Nytro is to end up with a cross of Super Off Road, RC Pro Am and Mario Kart. That would be the ultimate modern "retro" racing game.
Gavin McNeal has been working in the game industry since 2002 and has always worked with smaller indie-style game houses. Gavin always preferred that format because it gave him an opportunity to work on almost every aspect of game development. He formed Reel Ten inc. 2009 to create his own games from start to finish. With just a handful of people and an idea Reel Ten created a relatively successful hidden object game that was published by Big Fish Games, Gamehouse, Oberon Media and Onhand Software. Since the release of the first game 2 other hidden object games were create but this type of game wasn't exactly what Gavin had in mind for Reel Ten. This was a learning curve and entrance into game development and Project Nytro is next in line to move the company forward.
Retro racing game fans, join our Kickstarter campaign and help us bring the classic into the future!