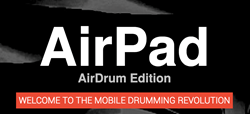 It's the only air drum app that you can use on stage and look 'cool' while you're using it.
Lisbon, Portugal (PRWEB) February 25, 2014
Projectron Software Founder Jorge Coelho has announced the launch of AirPad—Airdrum Edition, a new style of drum app that gives users a complete air drumming experience. Unlike other drum apps that utilize an on-screen touch interface, AirPad is the first and only one to allow users to create a drum set out of thin air.
The innovation that sets AirPad—Airdrum Edition apart from its predecessors is in its ability to "create" invisible drum pads in the user's air space that are triggered when hit with the iPhone. The app gives users the freedom of movement to produce realistic drum play anywhere, anytime.
"Once you have loaded the AirPad app to your iPhone, you can jam along with friends who play guitar, bass, piano or other instruments," Coelho says. "Just run AirPad and play the drums along with them, no real drums required!"
AirPad uses state-of-the-art technology that detects the approximate height of the individual user's hits by monitoring angles and providing five upper pads and five lower pads for the most realistic-looking air drum performance available. Until AirPad, this kind of control was not available in drum apps because the associated devices can't sense height.
AirPad also provides easy-to-reach thumb controls that take the place of foot controls to replicate the process of opening of the hi-hat cymbal, control velocity, or manage the drum kit itself. Its core technology is designed to eliminate latency, and the app itself does not use the iPhone's camera or other gimmicks that can lead to unpredictable results.
AirPad—Air Drum Edition features:

Capability to turn an iPhone into a drumstick and "air-play" a virtual drum set.
Five virtual pads on the upper row (crash, small Tom, medium Tom, ride, gong.)
Five virtual pads on the lower row (hi-hat, snare, kick, large Tom, rim shot.)
Zero-latency for a highly precise performance.
Dual thumb controls—one for playing harder beats and another to play an alternative drum set.
Thumb control for closing the hi-hat.
Thumb control for playing the kick drum (duplicate of hit on lower pad three.)
A minimalistic and ultra-responsive thumb interface with large buttons for accuracy during play.
"It's the only air drum app that you can use on stage and look 'cool' while you're using it," Coelho says. "Turn your iPhone into a drumstick and play a virtual drum pad set 180º in front of you.
"It gets even better with two iPhones, if you have the skills."
The AirPad app is available for download through iTunes for $2.99. For more information, visit the Projectron Software website.